NEW YORK -- Because Triple-A Las Vegas' game started three hours after the Mets-Marlins game on Sunday, word of the major league club's mass demotions reached the Las Vegas dugout via Tacoma's telecast during the sixth inning.
The Las Vegas players knew three of them were going to get promotions.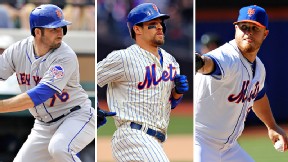 USA TODAY Sports
Josh Satin, Collin Cowgill and Josh Edgin rejoined the Mets on Tuesday.
"No one knows who's going, but you're having that moment, your heart drops. ... It could be me," said Josh Satin, who ended up being one of the three players promoted, along with Collin Cowgill and Josh Edgin.
After the game, Edgin and Cowgill got the news first. Then Wally Backman called Satin into the office.
"I just want to make sure you're not upset," Backman said, trying to fool Satin into thinking he had been bypassed.
Said Satin: "I knew he was joking, because he's not that funny."
The news was particularly rewarding to Satin, who cleared waivers after being demoted last June -- meaning the other 29 teams passed on claiming him.
"It's definitely a reality check and sort of a kick to the stomach," Satin said. "You work your whole life to get this opportunity, and then in one second it's gone. And last year around this time it was gone. It's definitely one of those things where you look in the mirror and you try to figure out what it's going to take to get back. It's been a long road to get back. It's been a year."
None of the call-ups should get a ton of playing time. Daniel Murphy primarily will play first base over Satin. Cowgill is last on the depth chart in the outfield. And Edgin is the second lefty behind Scott Rice.
Terry Collins did indicate Cowgill improved in Triple-A at avoiding chasing breaking pitches in the dirt. The manager added that Edgin's velocity has improved.
Edgin said he got good advice from Zack Wheeler, his road roommate: "Just quit thinking about crap."
Said Edgin: "I quit thinking and started throwing the crap out of the ball like I used."