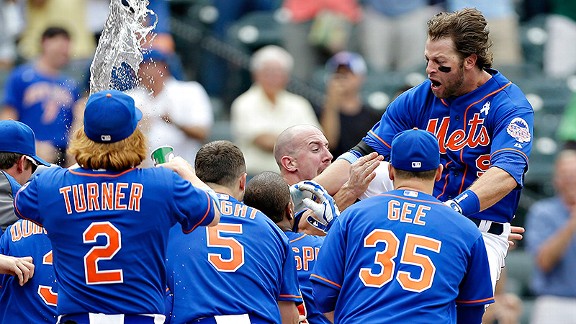 Kathy Willens/Associated Press
Kirk Nieuwenhuis is welcomed by teammates after hitting a walk-off three-run homer Sunday.FIRST PITCH: How much longer does Jordany Valdespin's second-base audition last?
In six starts since becoming an everyday player, Valdespin is 3-for-23. And that's not to mention tossing a throw over Jonathon Niese's head for an error during Saturday's sloppy game against the Cubs.
So while most of the attention rightfully will be focused on Zack Wheeler during a five-game series in Atlanta over four days, how Terry Collins handles second base also is worth monitoring.
The Mets face left-handed starters in Tuesday's split doubleheader matinee (rookie Alex Wood) as well as Thursday (Mike Minor), giving Collins at least two chances right off the bat to sit Valdespin.
Dillon Gee (5-6, 4.84 ERA) opposes right-hander Tim Hudson (4-6, 4.41) in the 7:10 p.m. series opener today. Over his past three outings, Gee is 3-0 with a 1.29 ERA. He has struck out 26 and walked three in 21 innings during that span.
Wheeler, who was due to fly to Atlanta on Sunday, is scheduled to hold an afternoon press conference today in advance of his Tuesday night major league debut.
Monday's news reports:
• Kirk Nieuwenhuis delivered a walk-off three-run homer against Carlos Marmol to cap a four-run ninth inning as the Mets salvaged the series finale against the Chicago Cubs with a 4-3 win on Sunday at Citi Field. It marked the first walk-off homer with the Mets trailing by two or more runs since Bobby Bonilla had a three-run walk-off homer against Cincinnati's Rob Dibble on Aug. 30, 1992 at Shea Stadium, according to ESPN Stats & Information. Nieuwenhuis had been 1-for-15 with seven strikeouts since returning from the minors before the long ball.
The win absolved Jeremy Hefner of getting charged with a loss in an outing in which two of the three runs he surrendered in five innings were unearned. Carlos Torres, who bumped Greg Burke from the roster, tossed two scoreless relief innings in his Mets debut. Marlon Byrd homered to open the ninth. Byrd now has 11 homers in 33 games. That is his quickest to that homer total in his career. His previous best: 11 homers in his first 91 games in 2009 with the Texas Rangers.
Read game recaps in the Post, Daily News, Times, Journal and Record.
• Read more on Torres in the Star-Ledger.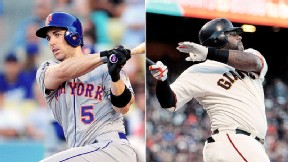 US Presswire
David Wright gained ground on Pablo Sandoval in All-Star voting.
• Whether it was cougars, Mets employees punching mass ballots or otherwise, David Wright moved closer to injured Pablo Sandoval for the vote lead to be the NL's starting third baseman in the July 16 All-Star Game at Citi Field. Wright now trails Sandoval by 126,403 votes.
• Wright called a players-only meeting after Saturday's loss to the Cubs. "We got some new faces here, you got some younger players, and I want to make sure this isn't something where we're OK with where we're at, we're OK with kind of playing the rest of this season out and going through the motions," Wright told Mike Vorkunov in the Star-Ledger. "I want to make sure that doesn't happen."
Anthony DiComo at MLB.com reported LaTroy Hawkins and John Buck also spoke during the meeting. "I really hate team meetings," Wright told DiComo. "They're one of my least-favorite things, because it usually means that things aren't going so well. But there's times where it's good to get together and get some things off of my chest."
• At least one Met took issue with Bob Costas' characterization of the team's walk-off celebration Sunday. Costas, narrating game highlights, said: "Two on, and Kirk Nieuwenhuis, just up from Triple-A, takes Carlos Marmol deep. Nieuwenhuis with a walk-off three-run home run. The Mets with four in the bottom of the ninth to win it, 4-3. And the team 14 games under .500 celebrates as if it just won the seventh game of the World Series. Another indication of the ongoing decline of Western civilization."
Said recent Mets call-up David Aardsma, a veteran of eight major league seasons, in a pair of tweets: "I love Bob Costas but are we supposed to roll over and die on the season? Or should we celebrate the excitement of a huge comeback? This ... Might be the beginning of something huge, we needed that win as a team! That's what we were celebrating!!!!"
• Dave Caldwell in the Journal discussed Byrd's Mets contribution with the outfielder.
• The Brooklyn Cyclones open their season tonight at Staten Island. Robert Gsellman is the Opening Day starter in the 7 p.m. game. Gsellman, a 13th-round pick in 2011 out of high school in Los Angeles, had made a combined seven starts this season for St. Lucie and Savannah, going 3-3 with a 3.55 ERA.
• One week after a demotion to Triple-A Las Vegas, Ike Davis went 0-for-4 with a walk and two strikeouts Sunday. He is hitting .174 (4-for-23) with four walks and seven strikeouts through six Pacific Coast League games.
• Joe Bonfe's walk-off solo homer lifted Binghamton to a 5-4 win against Bowie. Zach Lutz's three-run homer highlighted a six-run eighth that pulled Las Vegas even at 6, but the 51s suffered a 9-7 loss to Colorado Springs after Robert Carson surrendered three ninth-inning runs.
Savannah headed into its All-Star break on a six-game winning streak after routing Greenville, 8-0. Gabriel Ynoa tossed five scoreless innings to pick up his South Atlantic League-leading eighth win. Greg Pron's two-run double in the fourth opened the scoring. Florida State product Jayce Boyd went 2-for-2 with three walks. Boyd, who likely is being promoted to St. Lucie after Savannah's All-Star break, was 11-for-13 with six walks and two homers in the four-game series against Greenville.
• From the bloggers … Rising Apple takes exception to Costas' characterization of the Mets' walk-off celebration as an indicator of the decline of civilization. … Ninety-seven percent of Sunday's Mets game was sublimely awful. But the other three percent was awfully sublime, Faith and Fear writes.
BIRTHDAYS: Shortstop Brian Ostrosser, who appeared in four games for the Mets in 1973, was born on this date in 1949 in Ontario, Canada.
TWEET OF THE DAY:
Off to the A ✈✈✈

— Zack wheeler (@Wheelerpro45) June 16, 2013
YOU'RE UP: Are you ready to pull the plug on Jordany Valdespin's second-base audition?