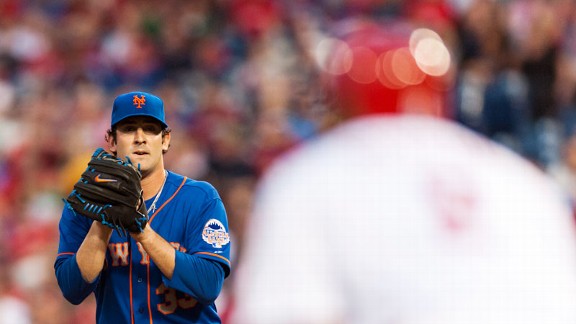 Howard Smith/USA TODAY Sports
Matt Harvey dominated the Phillies for six scoreless innings Sunday.PHILADELPHIA -- Dwight Gooden is the most recent Met to have started an All-Star Game on the mound.
He will not hold that distinction much longer, perhaps.
After tossing another six scoreless innings Sunday in an 8-0 win against the Philadelphia Phillies, Matt Harvey continued to demonstrate he merits the starting nod for the National League for the July 16 game in his home ballpark, Citi Field.
THE COMPETITION
Here's a look at the top NL starting pitchers who would merit All-Star Game consideration.
A Met has started the All-Star Game on three previous occasions: Gooden in 1986 and 1988 and Tom Seaver in 1970.
"It would be huge, but we're still playing now. We've still got a long way to go," Harvey said after Sunday's two-hit effort over six scoreless innings. "I've got another start Friday or Saturday to worry about. [Starting the All-Star Game is] one of those things I can't make a decision on. So I'll prepare for Friday or Saturday, and, hopefully, the performance will take care of itself."
Said David Wright, who has overtaken Pablo Sandoval for the NL vote lead at third base: "I think that by now you're kind of running out of things to say -- good things. He might be DHing for us in Chicago. It's Matt Harvey. He's been doing this all year. So there's nothing you can say about him now that you haven't said before. He went out there and dominated again today."
Harvey, who has a bevy of no-decisions because of a lack of run support, improved to 7-1 with 2.05 ERA with Sunday's victory at Citizens Bank Park.
His ERA ranks second in the NL, trailing only Pittsburgh's Jeff Locke (2.01). Harvey's 121 strikeouts, 0.88 WHIP and .188 opponents' batting average all lead the league.
NL manager Bruce Bochy recently acknowledged if the decision is close, giving the nod to Harvey because the game is in Queens should be a factor.
The last pitcher to start in his home ballpark was Roger Clemens in 2004 in Houston.
"Now, I also believe that whoever deserves to go, whoever deserves to start that game should get that," Bochy told SiriusXM. "But all things even, then I think you look at something like that -- a guy that's in his hometown pitching."