First baseman Jayce Boyd received word of his promotion to St. Lucie while at the South Atlantic League All-Star Game in Lakewood, N.J., with Savannah teammates Kevin Plawecki and Brandon Nimmo.
Plawecki, the catcher selected with a supplemental first-round pick last year out of Purdue, as well as closer Bret Mitchell also earned Florida State League promotions. Although likely not for long, Nimmo stayed behind -- partly because he missed a month in the first half with hand and back injuries, and partly because Matt den Dekker temporarily is occupying center field with St. Lucie as he returns from a fractured wrist.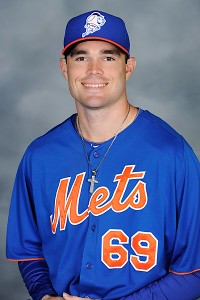 Courtesy of New York Mets
Jayce Boyd
"You kind of halfway expect it, but at the same time you can't think too much about it," Boyd said about the promotion, which came after hitting a league-leading .361 with five homers and 46 RBIs in 249 at-bats as Savannah won its first-half division title. "Kevin and Brandon were up there at the All-Star Game, as far as position players go. I thought Brandon may be coming with us as well. I'm excited for the opportunity."
Boyd -- a sixth-round pick in 2012 out of Florida State, where he was a three-year starter and two-time College World Series participant -- has continued his torrid pace at the higher level.
He has hit safely in all six games since the promotion. The first five games he produced multi-hit performances. He is batting .462 (12-for-26) with one homer and seven RBIs in the Florida State League.
"It's been working out so far," said the 22-year-old Boyd.
The righty-hitting, righty-throwing Boyd hit a modest .239 with five homers and 19 RBIs in 201 at-bats with Brooklyn after last year's draft.
Boyd suggested the upswing in performance mostly has to deal with getting a breather. A year ago, he was not prepared to play a full college season through the College World Series, then play 54 additional games with Brooklyn. He was with the Coney Island team days after the Seminoles were eliminated in Omaha.
"I think it was more so just having that offseason to prepare and get stronger -- to be a little more physically ready to go into a full season than coming out of college after playing 75ish games and then going in and playing another 60," Boyd said.
As a pro, Boyd has adjusted his stance. He used to hit more upright. Now, as the game speeds up at higher pro levels, he has widened his stance and reduced his movement, allowing him to see the pitch longer.
He was drafted by the Rangers out of high school in Cantonment, Fla., and "a little bit" considered turning pro before instead continuing on to Florida State.
"After the first couple of weeks, after I let it all sink in, I kind of figured out that school may be the best choice for now," Boyd said. "Obviously I don't think there was a wrong decision or a right one. I think either path could have led to where I am now. But I'm glad I went to school and got to experience everything I did."
Organization leaders
Average: Jeff Diehl, Kingsport, .417; Jayce Boyd, St. Lucie, .371; Cesar Puello, Binghamton, .338; Wuilmer Becerra, GCL Mets, .333; Patrick Biondi, Brooklyn, .333; Champ Stuart, Kingsport, .333; Allan Dykstra, Binghamton, .321; Kevin Plawecki, St. Lucie, .316; Wilmer Flores, Vegas, .312; Jhoan Urena, GCL Mets, .308.
Homers: Dustin Lawley, St. Lucie, 15; Cesar Puello, Binghamton, 14; Travis Taijeron, Binghamton, 14; Allan Dykstra, Binghamton, 12; Kirk Nieuwenhuis, Vegas, 10.
RBI: Wilmer Flores, Vegas, 61; Dustin Lawley, St. Lucie, 56; Jayce Boyd, St. Lucie, 53; Cesar Puello, Binghamton, 51; Allan Dykstra, Binghamton, 50.
Steals: Cesar Puello, Binghamton, 17; Alonzo Harris, Binghamton, 16; Darrell Ceciliani, Binghamton, 15.
ERA: Michael Fulmer, GCL Mets, 0.00; Carlos Gomez, Kingsport, 0.00; Rob Whalen, Kingsport, 0.00; Andres Perez, Kingsport, 1.50; Luis Rengel, Kingsport, 1.59; Rainy Lara, St. Lucie, 1.67; Christian Chivilli, Brooklyn, 2.35; Matt Bowman, St. Lucie, 2.57; Gabriel Ynoa, Savannah, 2.77; Miller Diaz, Brooklyn, 2.79.
Wins: Matt Bowman, St. Lucie, 8; Logan Verrett, Binghamton, 8; Gabriel Ynoa, Savannah, 8; Erik Goeddel, Binghamton, 7; Rafael Montero, Vegas, 7.
Saves: Jeff Walters, Binghamton, 18; Bret Mitchell, St. Lucie, 10; T.J. Chism, St. Lucie, 9; Beck Wheeler, Savannah, 6; Hamilton Bennett, St. Lucie, 6.
Strikeouts: Rafael Montero, Vegas, 92; Matt Bowman, St. Lucie, 80; Rainy Lara, St. Lucie, 80; Logan Verrett, Binghamton, 77; Erik Goeddel, Binghamton, 76.
Short hops
• Giancarlo Alvarado, the 35-year-old Mexican League right-hander signed by the Mets, is expected to enter Triple-A Las Vegas' rotation. That could bump Jacob deGrom back down to Binghamton, despite deGrom having performed solidly through two Pacific Coast League starts (0.77 ERA in 11 2/3 innings).
DeGrom was pressed to the higher level because of Zack Wheeler and Carlos Torres' promotions and the trade of Collin McHugh. Leaping two levels in a short period of time (de Grom began the season at St. Lucie) probably is asking a lot, especially considering the ninth-round pick in 2010 lost a full season to Tommy John surgery as a pro and only started pitching late in college at Stetson.
• The Mets may have a pair of familiar left-handed relief options in the not-too-distant future.
Tim Byrdak, who underwent Sept. 6 surgery to repair a torn anterior capsule in his pitching shoulder, has worked in structured games on back-to-back days a couple of times and now has made a Florida State League appearance. He long has eyed July for a major league return.
Pedro Feliciano may have more of an uphill climb, even though he is currently at a higher level. Feliciano has allowed one hit and no walks in 4 1/3 innings spanning four appearances with Binghamton, although a team official acknowledged his fastball velocity remains hovering in the 82-83 mph range he displayed during spring training.
• McHugh, who was acquired by the Rockies in the trade for Eric Young Jr., has been assigned to Double-A Tulsa and has yet to make his debut.
• Cesar Puello is expected to be named one of the B-Mets' four or five Eastern League All-Star selections when the roster is announced later today. Puello, despite briefly being sidelined by finger and foot issues, is hitting .481 with seven homers and 20 RBIs in 13 games in June.
A team official suggested a promotion to Las Vegas is not imminently looming for Puello, though. The Mets do not mind Puello finally having a prolonged period of success. Plus, the outfield is about to become crowded in Triple-A with den Dekker very soon joining the 51s outfield, which already includes Mike Baxter, Jamie Hoffmann and part-time outfielder Eric Campbell and Brian Bixler.
Right-hander Logan Verrett, like Puello, should be a lock for the Eastern League All-Star Game in New Britain, Conn., on July 10.
• Noah Syndergaard allowed two runs on five hits while striking out seven and walking one in his Double-A debut Sunday.
• Right-handers Ricky Knapp (eighth round, Florida Gulf Coast) and Kevin McGowan (13th round, Franklin Pierce) have joined Brooklyn and should imminently make their professional debuts. Fellow draftee Paul Paez, a left-hander selected in the 38th round, also is with the Cyclones and should debut next week.