DENVER -- Perhaps it is partly a motivational tactic with Ruben Tejada expected to begin a rehab assignment this weekend, but Terry Collins said in his most emphatic terms yet that Tejada will have a challenge to unseat Omar Quintanilla as the regular shortstop when the incumbent returns from the disabled list.
Tejada has been on the DL since May 30 with a strained right quadriceps.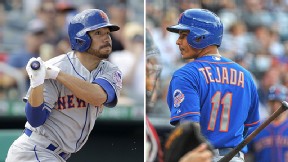 Associated Press
Omar Quintanilla may be more than a placeholder for Ruben Tejada.
"Based on what we're seeing right now, Ruben has got to go earn it back," Collins said Thursday afternoon. "He's got to go play. He's got to go get his game together. He's got to get himself in good, really top shape. We know he can. But there's no reason why we're going to take this kid [Quintanilla] out of the lineup unless it's fatigue. He's played very, very well offensively and defensively. And we know Ruben can also."
Collins almost spoke of Tejada's absence as a demotion rather than a DL stint. In reality, Tejada was on the verge of being dispatched to Triple-A Las Vegas when the injury surfaced during the Subway Series.
"We sent him out for a reason. He wasn't playing well," Collins said about Tejada. "He's got to play well. ... Right now it's too far down the road. But I'm not going to take Q out of the lineup at this particular time except to get him a blow. ... You look at yesterday's game, he made three plays that might have saved the game for us. A guy who has come up and hit like he's hit, played defense like he's played, and then all of a sudden not have a job -- he's earned the right to be out there right now."
Collins said he cannot foresee a platoon at shortstop.
"In all my years I've never seen that happen at shortstop," Collins said. "I think it's a guy who goes out there every day. You get comfortable with who's out there. The second basemen, they never have to make changes about who is playing alongside them."