DENVER -- Many scouts have viewed Jeremy Hefner as a long-relief type who can step in as a fill-in starter on occasion.
Hefner has believed he is a bona fide contributor to a rotation.
He is demonstrating that potential this season.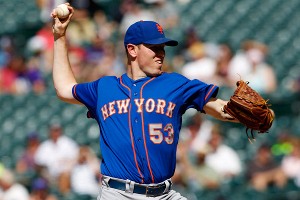 David Zalubowski/Associated Press
Jeremy Hefner allowed two runs (one earned) in six innings Thursday.
Benefiting from a few extra miles per hour on his fastball thanks to a mechanical tweak involving more rotating of his torso, Hefner shaved his ERA to 3.72 by limiting the Colorado Rockies to two runs (one earned) in six innings in a no-decision in what became a 3-2 Mets win.
Hefner has allowed a total of six earned runs in 30 innings over his past five starts -- good for a 1.80 ERA during that span.
"I knew that I could pitch this way," Hefner said. "My performance is finally matching up to the expectation. This doesn't surprise me. I know I'm capable of doing this. So it's not a shock to me. I'm glad we're winning. That always helps. It's been a really good road trip, and I wanted to put us in a situation where it could be a great road trip heading into tomorrow and this weekend facing the Nationals."
Nine of the 14 runs Hefner has allowed over his past four starts have been unearned. How has he kept his focus?
"Guys aren't trying to make errors," Hefner said. "For me, I can't control that. They're going to give good effort and do the best that they can and try to make plays. And if it doesn't happen, it doesn't happen. They really don't affect me, other than it changes the situation a little bit. So I just try to focus on the hitter and execute pitches."
Hefner had pitched in relief here on April 18, during that frigid series between the Mets and Rockies. He greatly preferred Thursday's heat.
"I think I gave up two homers in one inning the last time I pitched here, earlier in the year," Hefner said. "It's always good to throw well. It doesn't matter where you're at -- but especially here, with the tendency of the ball to fly and to give up homers. And I've given up a few homers this year, too."
As for that April appearance, he added: "It was freezing cold. We were in the middle of the snow for a week. It was different. It's a different team for the most part."
Asked to elaborate on the "different team" comment, Hefner said he meant more than a turnover in personnel.
"The attitude," he said. "Just the willingness to come to the park and want to win. There's a renewed spirit."
Marlon Byrd agreed.
"Definitely," Byrd said. "We didn't come here to have a 100-loss season. We didn't come here to just play, and play for fourth place or third place. We came here to win. It's just one of those things where we hit a little funk for a little too long. We're coming out of it."