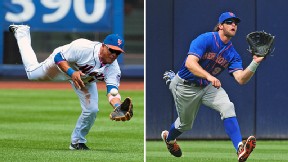 Getty Images
Even with the Mets starting to face right-handed pitching, Juan Lagares should remain the primary center fielder over Kirk Nieuwenhuis.
NEW YORK -- After completing a stretch facing 11 left-handed starters in a 16-game span, the Mets now have settled into a string against right-handed pitching.
But Terry Collins said that will not result in him backing away from using righty-hitting Juan Lagares in center field and instead shifting to lefty-hitting Kirk Nieuwenhuis.
Nieuwenhuis had started over Lagares on Wednesday night against righty Randall Delgado, but Collins said that was more about a specific matchup and to get Nieuwenhuis one start to try to keep him sharp. Nieuwenhuis (.154, 1 HR, 6 RBIs in 52 at-bats) has started only two games since June 22.
"I really think he's done a nice job," Collins said about Lagares. "Last night was a situation where I thought Kirk, against that particular guy, it was a good guy for Kirk to face. I've got to keep running him in there to make sure he stays as sharp as he can because you just don't know when he's going to be in there."