NEW YORK -- Pedro Feliciano has tossed 6 2/3 scoreless innings spanning seven appearances with Double-A Binghamton. And opponents are hitting only .136 against him.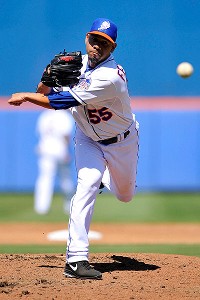 Brad Barr/USA TODAY Sports
Pedro Feliciano is pitching for Double-A Binghamton.
So what is the hold-up in Feliciano returning to the majors?
Terry Collins said Feliciano has not yet demonstrated he can maintain his velocity when he works on consecutive nights in the minors. And given his role with the Mets would be coming in to face one lefty batter, then repeating that task the next day and maybe the day after that without rest, Feliciano needs to show more resilience before returning to the majors.
A team insider recently said Feliciano's velocity has been comparable to spring training -- sitting in the 82-83 mph range.
"There will be days when his velocity is good," Collins said. "And the next day it's down. One of the things obviously here is because of who he is and his background ... if you pitch him tonight, you're probably not going to give him tomorrow off. If he gets somebody out tonight, he may have to get Eric Chavez out tomorrow. So I've got to make sure his velocity stays a little consistent."
Feliciano has not appeared in the majors since 2010, when he set a franchise record with 92 relief appearances with the Mets.
Still, asked if Feliciano might make it to Citi Field in the second half, Collins said: "Absolutely, there's a chance we'll see him."