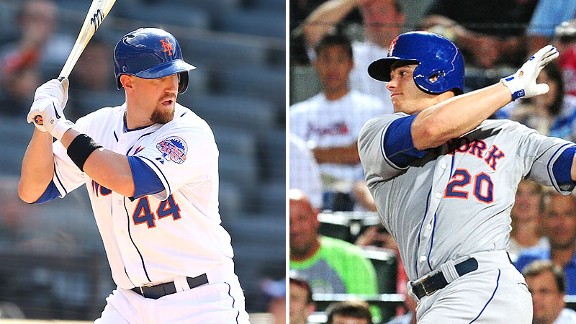 Getty Images/cite>Terry Collins said John Buck will continue to play despite his struggles, not cede time to Anthony Recker.NEW YORK -- Terry Collins said he is not abandoning
John Buck
as his regular catcher, despite a production swoon that has dropped his season average to .205. Buck is 4-for-his-last-41 in his past 11 games.
Anthony Recker starts for the second time in three games Thursday afternoon, but Collins said that is mostly about having the backup catcher start a day game after a late-night game that went past midnight and with the temperature so hot.
"We are not looking in another direction," Collins said. "We're being patient. We're understanding. As I told John: 'You set the bar so high in April and May that now there's huge expectations that you're supposed to hit homers all the time and drive in all these runs.' ... When you're playing really good, people come to expect it. And when you go into a slump, now everybody turns their sights in another direction. I don't do that."
Of course, the present production might be considered a slump if Buck had not hit .192 last season and .227 in 2011 with the Marlins.
Buck singled with two outs in the ninth inning Wednesday as part of a 1-for-4 night.
"I thought his at-bats were very good. I just told him so," Collins said about last night. "... I just told John, 'Look, you've got to hang in there.' We sat here for two months, in April and May, doing nothing but talking about the value of John Buck."