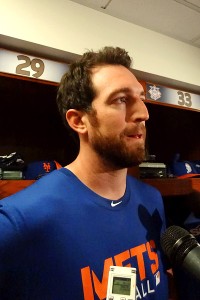 Adam Rubin
Ike Davis speaks in the visitors' clubhouse at Miller Park after rejoining the Mets on Friday.
MILWAUKEE -- Ike Davis popped into the visitors' clubhouse at Miller Park late Friday afternoon, after awaking at 5 a.m. in Tucson, Ariz., and flying through Houston to Milwaukee.
"Shalom, everybody!" Davis bellowed as teammates greeted him with hugs.
"I'm back, too," reliever Greg Burke, Davis' travel mate and fellow call-up from Triple-A Las Vegas, lightheartedly chimed in.
Twenty-five days after the New York Mets demoted Davis to the minors, he returned for the series opener against the Milwaukee Brewers. Manager Terry Collins immediately placed Davis in the cleanup spot and at first base.
Collins nonetheless pledged to find at-bats for Josh Satin, who has a 10-game hitting streak and .353 average in Davis' absence. Satin had started the last 11 games at first base, but found himself out of the lineup Friday.
Read the full news story here.