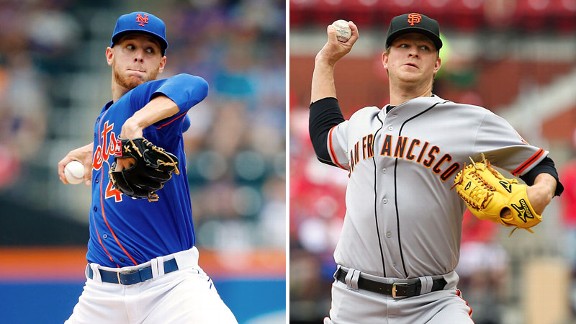 Getty Images
Zack Wheeler faces Matt Cain and the San Francisco Giants on Wednesday.MILWAUKEE -- Zack Wheeler has faced San Francisco Giants affiliates each of the past two seasons, in Double-A when Binghamton faced Richmond, then this year in Triple-A when Las Vegas faced Fresno.
Wednesday at AT&T Park in San Francisco nonetheless will mean something extra for Wheeler.
The rookie's fifth major league start comes in the home ballpark of the team that traded him two years ago for Carlos Beltran. Wheeler opposes Matt Cain in the finale of that three-game series.
"I mean, it's not going to pump me up any more or anything like that," Wheeler said. "But, yeah, it's in the back of my head."
As in the motivation is: Look what you're missing?
"Possibly," Wheeler said. "It would be nice to have a good outing there. Let's put it that way."
On Friday night, Wheeler picked up his second major league win, although he required 98 pitches to navigate five innings. He allowed three runs (one earned) on seven hits and three walks while striking out three.
As Terry Collins called for, Wheeler came out throwing upper-90s fastballs, after drifting away from his bread and butter in his previous outing against the Washington Nationals.
"I definitely threw a lot of fastballs," Wheeler said. "I'm happy about my outing, even though there were some low points -- falling behind [in counts], throwing 20 pitches an inning, then only going five. But I battled out there as best as I could and got a good result in that fifth."
Juan Francisco had homered against Wheeler in the fourth inning, but Wheeler struck him out on a slider the following frame to strand the bases loaded and end his outing.
"That was a big pitch," Wheeler said. "That's a guy you really can't make a mistake on. It was a slider down in the zone. And I feel comfortable throwing it right there. And it worked out perfect."
Said Collins: "One hundred pitches in five innings is a lot. And, in the fifth, he had to work out of a bases-loaded jam. That's why we took him out. He probably had another inning in him. But when you had to work that hard to get out of that inning, that's enough.
"But I'll tell you what I did like tonight: He kept throwing his fastball. He kept throwing it, kept throwing it. The more you throw it, the better you're going to get trying to locate it."