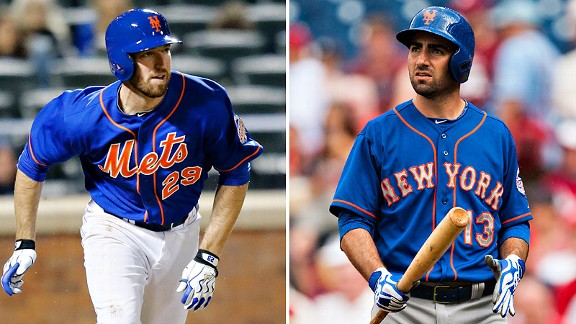 USA TODAY Sports
Ike Davis and Josh Satin are not platooning, according to Terry Collins.MILWAUKEE -- Ike Davis is not platooning with Josh Satin, Terry Collins said Sunday morning.
After Davis started consecutive games at first base against right-handed pitching upon returning from the minors, Satin is in the starting lineup at first base for the series finale against Milwaukee Brewers left-hander Tom Gorzelanny.
Collins said he merely needed to find a place to get Satin's bat into the lineup today, since Satin is hitting .417 (10-for-24) against left-handed pitching at the major league level this season.
"We said since we talked about Ike coming back: Josh Satin deserves some at-bats," Collins said. "I think he's earned them. So here's a situation where this guy is hitting .450 against left-handed pitching and certainly deserves his opportunity to be in the lineup, so I'm going to put him in today."
Satin has been working pregame in the outfield, but Collins does not sound eager to use him out there. As it is, the manager is struggling to find at-bats for righty-hitting outfielder Andrew Brown, who also has produced when he has been in the lineup.
Satin has played one career minor-league game in the outfield. He also had an ill-fated and brief winter-ball stint in the outfield two offseasons ago before getting released by the Venezuelan club Caracas.
"I don't know. That's hard to say," Collins said about using Satin in the outfield. "It's one thing shagging balls in batting practice. And he has done that. And he's done a nice job going after them. I've watched them. It's another thing to do it in a game, where we continue to try to put guys out of position and it comes back to burn you sometimes. So you've got to be careful."
That mindset of valuing fielding rather than one-dimensional players seems to have been enhanced by watching Eric Young Jr., Juan Lagares and Marlon Byrd patrol the outfield together.
"The defense has made a big difference," Collins said. "We've kept ourselves in games because we haven't allowed extra runs to score."