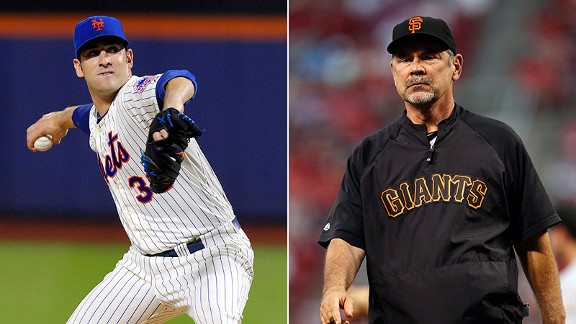 USA TODAY Sports
Bruce Bochy did not tip his hand completely, but he is expected to select Matt Harvey as the NL starting pitcher in next week's All-Star Game.SAN FRANCISCO -- NL manager Bruce Bochy indicated that Matt Harvey's start against the San Francisco Giants on Monday night is not very important in determining who should start the All-Star Game for the league. In fact, Bochy sounded like that decision had already been made.
Harvey is widely expected to get the assignment when it is announced next Monday, the day before the Citi Field event.
"I know which way I'm leaning," Bochy said Monday afternoon. I'll leave it at that. But this kid is having a special year and, I know, he's from New York. All that's been discussed. I'll just leave it at that right now."
Even NL ERA leader Clayton Kershaw said Harvey should get the honor.
"There's no reason, especially if it's in New York, that he shouldn't start. That's what the fans will want. I've got no problem with that," Kershaw told FoxSports.com.
Harvey's second major league start came last July 31 in San Francisco. He allowed three runs in six innings in his first major league loss. Bochy recognizes Harvey has raised his game to another level now.
"We all know about his great fastball, but he has other pitches he throws, too. And he's commanding them," Bochy said. "And I think sometimes it's a matter of a young player getting settled in -- whether it's a position player or pitcher. This guy has got tremendous stuff. Sometimes, it takes a while to get that confidence and that sense of belonging. He certainly has it now."
Harvey has been compared to stars such as Justin Verlander and Zack Greinke, but Bochy said he did not want to offer a comp.
"You could mention quite a few power pitchers in there. That's what he is," Bochy said. "He's a power arm and has a great changeup, but he's his own guy. You get special arms like this every so often. He's emerged as one of the best pitchers in the game. They've got a good one there."