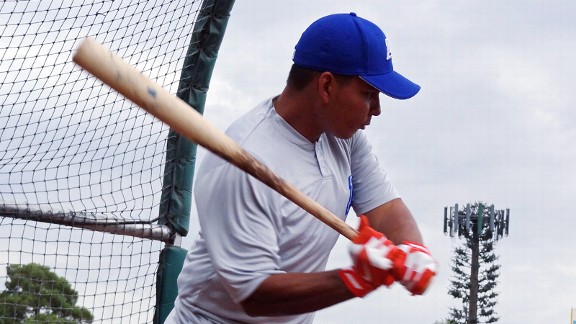 Adam Rubin
Ruben Tejada takes batting practice before Thursday's Las Vegas 51s game.LAS VEGAS -- Ruben Tejada has settled into the locker formerly occupied by Ike Davis with the Las Vegas 51s.
Tejada was deemed healthy, taken off a rehab assignment Sunday and optioned to the Pacific Coast League team, officially making him a minor league rather than a rehabbing major leaguer. Asked if he was surprised, since the Mets could have kept him as a major leaguer on a rehab assignment for nearly another two weeks, Tejada took the high road.
"It's not my decision. I don't have control on that," Tejada said. "I have to come here and work hard."
Asked if he found it upsetting, he added: "Anybody would in that situation, but you have to keep working."
Tejada landed on the disabled list with the Mets on May 30 with a right quadriceps strain. That's the same injury he suffered a year ago. This time, Tejada said, he made sure he completely healed before returning so the injury did not linger. He returned to action in the Gulf Coast League on June 28. Entering Thursday night's game, he was hitting .156 (5-for-32) in nine games with the 51s.
"Right now I feel good," Tejada said. "Everything is perfect. It was the same injury from last year. I made sure it was 100 percent, because last year I tried to come back early and hurt it again."
Asked what he thinks the organization wants him to work on, Tejada said: "Take pitches and [get] a good pitch to hit. "
Will he again be the regular Mets shortstop?
"I don't have control on that situation," Tejada said.
Said Terry Collins recently: "I want to hear about quality at-bats. I want to hear about the fact his first-step quickness is back. He's not Jose Reyes, but this guy had great instincts to the ball. I want to make sure I hear that's back, that he's getting to baseballs, he's getting the good read off the bat -- in a tough place to play. So if he's getting it there, I know he's getting ready."