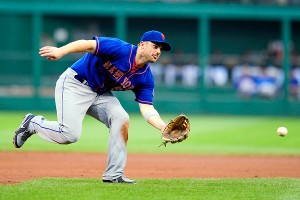 Jeanine Leech/Icon SMI
David Wright fields a fourth-inning grounder in Pittsburgh, where he was booed each plate appearance.
PITTSBURGH -- Apparently David Wright picking Pedro Alvarez as a fill-in for Carlos Gonzalez in the Home Run Derby was not good enough for Pirates fans. The PNC Park faithful lustily jeered Wright during Friday night's game for omitting Alvarez from the original quartet of NL representatives.
"It's kind of cool that they're that passionate about their players," Wright said. "I'm not going to lose any sleep getting booed a couple of games in Pittsburgh. That's for sure. But it seems like they're knowledgeable about what's going on. And it's kind of cool, like I said, they're that upset about it and that passionate about it. It made for a nice atmosphere."