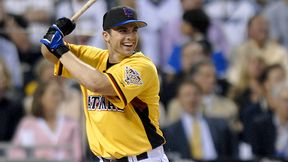 Scott Rovak/US Presswire
David Wright finished as the runner-up in the 2006 Home Run Derby in Pittsburgh.
PITTSBURGH -- Bullpen catcher Dave Racaniello will throw to David Wright in Monday's Home Run Derby at Citi Field.
Racaniello had been slated to throw to Wright in Pittsburgh at the 2006 All-Star Game, but had to bail because of back surgery. Paul Lo Duca instead pitched to Wright, who reached the finals before losing to Ryan Howard.
The Home Run Derby will be televised live by ESPN at 8 p.m.