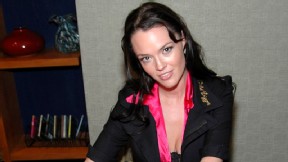 Bruce Gifford/FilmMagic
Anna Benson reportedly has been in legal hot water before.
PITTSBURGH -- Former Mets wife Anna Benson, or Anna Warren at the time, was investigated in 1996 and the subject of a national manhunt after her boyfriend ended up executed in their apartment, the Daily News reported. She reportedly was featured on "America's Most Wanted." Writes Rich Schapiro:
"Get rid of him," she allegedly told her beau before he carried out the slaying, the lead investigator told The News, quoting witnesses.
Benson, then a 19-year-old named Anna Warren, hightailed it out of town with her man after the bloody slaying in Knoxville.
Tennessee cops obtained warrants charging Warren and her boyfriend, Paul Dejongh, 19, with the murder of Michael Evans, court records show.
She was captured five months later, but all charges against her were eventually dropped -- infuriating the victim's family.
Benson, the estranged wife of ex-Met Kris, currently is in hot water over allegedly barging into his home armed to the teeth and wearing a bulletproof vest.