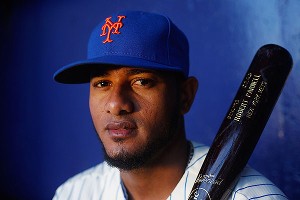 Chris Trotman/Getty Images
Jordany Valdespin reportedly had a tantrum after getting demoted Saturday.
PITTSBURGH -- Jordany Valdespin, who was teary-eyed when speaking with reporters Saturday night, did not handle word of his demotion well, the Star-Ledger reported.
Valdespin started "yelling furiously while his startled teammates looked on, according to two people who witnessed the episode," according to the report, which said bullpen coach Ricky Bones had to calm Valdespin.
"He's not helping himself. Everyone gets upset when that happens. But you just need to shut up and pack your bags," one anonymous person told the Star-Ledger.
Said another: "He still doesn't get it."
UPDATE: The Post subsequently reported Valdespin called Terry Collins an expletive and demanded to be placed on the disabled list instead of a demotion.