NEW YORK -- Again!
For the second time in five weeks, fueled by a gem from Dillon Gee, the Mets took a scoreless effort into the ninth inning against the Atlanta Braves. And again they lost 2-1 in gut-wrenching fashion.
Center fielder Jason Heyward made an amazing game-ending diving catch in left-center against pinch hitter Justin Turner for the final out with two Mets on base. Heyward was playing center field only because B.J. Upton is on the disabled list. Heyward had missed the previous six games over 11 days with a right hamstring injury.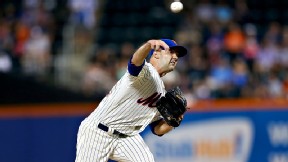 Elsa/Getty Images
Dillon Gee took a no-hit bid into the seventh inning, only to receive a no-decision.
Bobby Parnell, asked to protect a one-run lead in the ninth Monday night at Citi Field, surrendered a pair of runs. After consecutive singles to open the inning and a one-out passed ball by John Buck advanced both runners a base, Chris Johnson had an RBI groundout and Reed Johnson contributed a go-ahead run-scoring single.
Parnell had not allowed an earned run in his previous nine innings and had converted 15 of his past 16 save opportunities.
If that sounded like déjà vu, it is for good reason: Gee had taken a scoreless effort into the ninth inning in Atlanta on June 17, only to allow a walk-off two-run homer to Freddie Freeman as the Braves won 2-1.
The Mets, who had been poised to move within nine games of the first-place Braves for the first time since May 31, instead dropped 11 games back with Monday's loss.
Gee took a no-hit bid into the seventh inning before surrendering a leadoff single to Freeman. He ultimately stranded the bases loaded that inning, allowing the Mets to maintain a 1-0 lead.
It marked the fourth time this season a Mets pitcher had taken a no-hit bid into the seventh. The other three outings were produced by Matt Harvey.
Gee, poised to move above .500 for the first time this season, instead received a hard-luck no-decision for his 96-pitch effort.
His line: 7.0 IP, 2 H, 0 R, 0 ER, 3 BB, 3 K, 1 HBP.
The Mets' lone run came in the fourth inning. Right fielder Justin Upton misplayed Marlon Byrd's sinking liner into a leadoff triple. Ike Davis followed with a run-scoring single.
What's next: Carlos Torres (0-1, 0.79 ERA) makes his second Mets start. He opposes right-hander Kris Medlen (6-9, 3.64) at 7:10 p.m. ET Tuesday.