In his first full season as a reliever, left-hander Jim Fuller put up gaudy numbers with Class A St. Lucie this year.
The 26-year-old southpaw posted a 0.84 ERA while allowing only 15 hits in 32 innings, albeit with 16 walks. Lefty batters in the Florida State League hit only .116 (5-for-43) against him and received only three of those walks.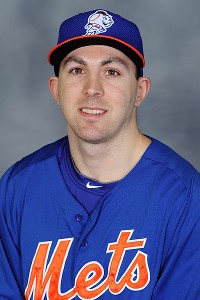 Courtesy of New York Mets
Jim Fuller
"I was healthy there. I mixed it up. My arm felt good," said Fuller, who made his Double-A Binghamton debut on June 20. "I just attacked the hitters there."
Fuller missed the entire 2011 season recovering from shoulder surgery to repair a torn labrum. He missed the early part of last season, too.
"It took a while," he said about the rehab process. "I didn't really start feeling good until this past offseason -- a year and a half after surgery. It takes a while, a lot of hard work rehabbing and stuff. But it's paying off finally."
A 21st-round pick in 2008, Fuller began his college career at Southern New Hampshire before bouncing to a junior college in Oklahoma and then Southern Connecticut State. The Marlborough, Mass., native earned the Mets' attention while tossing 59 straight scoreless innings for Division II SCSU.
His fastball sits at 91-92 mph and tops out at 94. He also possesses a curveball and changeup.
Fuller actually landed on the B-Mets' disabled list Tuesday with left biceps tendinitis, although the injury is not considered serious. He had a 9.64 ERA through seven Double-A appearances, which he just chalked up to an adjustment period to the higher level.
"That's going to happen," Fuller said. "I'm not too worried about that. I've had some good outings, too."
As for the adjustment to the bullpen after being a starter throughout his pro career, Fuller said: "It didn't go too bad. I adjusted right away. It's just the whole point of getting up quicker. You've got to be ready in a batter or so. It caught me off guard at first, but I adjusted to it pretty well."
Organization leaders
Average: Jayce Boyd, St. Lucie, .345; Victor Cruzado, Kingsport, .338; Cesar Puello, Binghamton, .332; Wilmer Flores, Vegas, .320; Kevin Plawecki, St. Lucie, .317; Joe Tuschak, Kingsport, .307; Allan Dykstra, Binghamton, .305; Jeff McNeil, Kingsport, .305; Josh Rodriguez, Binghamton, .305; Jhoan Urena, GCL Mets, .299.
Homers: Dustin Lawley, St. Lucie, 20; Allan Dykstra, Binghamton, 18; Travis Taijeron, Binghamton, 17; Cesar Puello, Binghamton, 16; Wilmer Flores, Vegas, 12.
RBI: Wilmer Flores, Vegas, 77; Dustin Lawley, St. Lucie, 74; Cesar Puello, 71; Allan Dykstra, Binghamton, 69; Jayce Boyd, St. Lucie, 67.
Steals: Cesar Puello, Binghamton, 23; Darrell Ceciliani, Binghamton, 23; Alonzo Harris, Binghamton, 17; Stefan Sabol, Savannah, 13; Patrick Biondi, Brooklyn, 13.
ERA: Rob Whalen, Kingsport, 1.34; Chris Flexen, Kingsport, 1.93; Rainy Lara, St. Lucie, 2.16; Steven Matz, Savannah, 2.33; Miller Diaz, Brooklyn, 2.37; Matt Bowman, St. Lucie, 2.62; John Gant, Brooklyn, 2.76; Gabriel Ynoa, Savannah, 2.82; Robert Gsellman, Brooklyn, 2.86; Noah Syndergaard, Binghamton, 2.88.
Wins: Gabriel Ynoa, Savannah, 10; Matt Bowman, St. Lucie, 9; Logan Verrett, Binghamton, 9; Erik Goeddel, Binghamton, 9.
Saves: Jeff Walters, Binghamton, 27; T.J. Chism, St. Lucie, 15; Beck Wheeler, Savannah, 11; Bret Mitchell, St. Lucie, 10; Hamilton Bennett, Binghamton, 8.
Strikeouts: Rafael Montero, Vegas, 105; Noah Syndergaaard, Binghamton, 102; Matt Bowman, St. Lucie, 100; Logan Verrett, Binghamton, 97; Erik Goeddel, Binghamton, 94.
Short hops
• Pedro Feliciano is about to get tested to see if he is MLB worthy. After 14 relief appearances with Binghamton, Feliciano has been promoted to Triple-A Las Vegas. Feliciano had a 1.26 ERA with the B-Mets. Lefties hit .167 and righties hit .192 against him in 14 1/3 innings. However, Feliciano did not use his fastball much in the Eastern League. He instead deceived the less-sophisticated Double-A hitters primarily with a slider-changeup combo. His lesser-used fastball did top out at 85 mph, but was far more frequently in the low-80s.
Feliciano's promotion was part of a flurry of roster moves in the upper minors Tuesday. With Greg Burke and Feliciano joining Las Vegas, and with Jenrry Mejia due to start Friday in Game 1 of a doubleheader against the Nationals, Greg Peavey and Armando Rodriguez were shifted from the 51s to Binghamton. They were due to report to the B-Mets on Tuesday, but their connecting flight was canceled and they were stranded in Detroit overnight.
• Left fielder Cory Vaughn, who was having a solid season with Binghamton (.288, 6 HR, 31 RBIs in 170 at-bats) before a right elbow strain landed him on the DL, appears fully healed. After appearing in nine Gulf Coast League games, Vaughn was activated from the DL on Tuesday and joined Class A St. Lucie.
• Outfielder Dustin Lawley continues to tear up the Florida State League. Lawley was named the league's player of the week after hitting .444 with one homer and six RBIs in five games during the week ending Sunday. Lawley, a 19th-round pick in 2011 from the University of West Florida, has an FSL-leading 20 homers.
• Jordany Valdespin may have further cemented himself in management's doghouse for his demotion reaction in Pittsburgh, but solid production since reporting to Las Vegas at least is tempering things. Through six games, Valdespin has 10 hits in his first 25 at-bats, for a .400 average. He has produced two homers and 13 RBIs. Five of Valdespin's six starts have come at second base, since Wilmer Flores has been on the DL with an ankle injury. The other start came in right field, and Valdespin committed an error. Flores was activated Tuesday, although he recently continues to see more action at first base than second base.
• Gulf Coast League catcher Alex Machillanda was arrested Sunday for felony shoplifting, battery and resisting arrest, the St. Lucie Police Department announced. Machillanda, 21, had appeared in eight Gulf Coast League games. He is a native Venezuelan.
• Travis d'Arnaud, returning from a broken left foot, should appear in a Gulf Coast League game no later than Thursday.
• Binghamton outfielder Darrell Ceciliani, a former New York-Penn League batting champ, has a 16-game hitting streak with Binghamton.
• B-Mets closer Jeff Walters has an Eastern League-leading 27 saves. His next save will match Jerrod Riggan for the Binghamton record. Riggan had 28 saves in 2000 with the B-Mets.