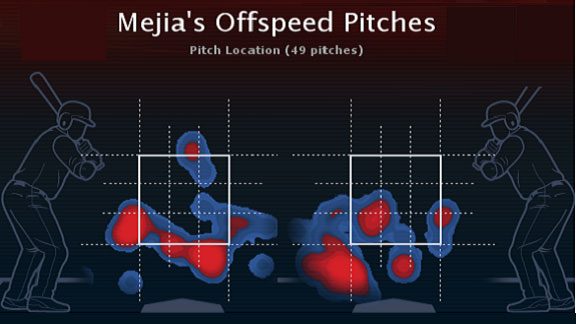 The highlight for the Mets this weekend was watching Jenrry Mejia's newfound offspeed success.The Mets may look back at their inability to score late against Nationals pitchers Ross Ohlendorf and Rafael Soriano on Friday night as the opportunity that cost them their best momentum in a long time.
Little went right after those failed chances when the Mets looked to be on the verge of sweeping a doubleheader. We look back at some of what did and didn't happen in our series statistical review.
Mejia dominates
A couple of regular readers (Eric Hornick and Puneet Nanda) had good nuggets on Jenrry Mejia's scoreless seven inning, seven-strikeout effort on Friday. They noted that at age 23, Mejia was the youngest Mets pitcher to have those numbers in a scoreless effort since Jason Isringhausen in 1996.
What was most impressive about Mejia was his pitch location, specifically for his offspeed pitches. That is detailed in the image atop the article, which shows how Mejia kept the ball at the bottom of the strike zone, or just below it.
Mejia threw 32 of 49 breaking balls and changeups for strikes. The Nationals did not miss on any of their swings against his fastballs, but missed 15 times against his offspeed stuff.
Left is right for Harvey
Matt Harvey's dominance of left-handed hitters has reached ridiculous status.
The Nationals' lefties were 0-for-11 in Game 2 of Friday's doubleheader. Opposing left-handed batters are 2-for-38 with 16 strikeouts and one walk against him in his last three starts.
Their season batting average against Harvey is .165. Only two Met pitchers have made 30 or more starts in a season and held lefties to a sub-.200 batting average. Amazingly, they are Steve Trachsel (.196 in 2003) and Oliver Perez (.158 in 2008)
Harvey has struck out 94 lefties. The club record for strikeouts of lefty hitters by a righty is 134 by Dwight Gooden.
As Adam Rubin noted, Harvey now has seven losses/no-decisions in games in which he's allowed no runs or one run. That's one shy of the Mets "record" for such games -- eight by Roger Craig in 1963.
Murphy's big day
In the Mets rout in Game 1 of Friday's doubleheader, Daniel Murphy became the third Mets second baseman to have a four-hit, two-homer, five-RBI game, joining Gregg Jefferies (1989 against the Cardinals) and Edgardo Alfonzo (his 6-for-6 game in 1999 against the Astros).
There have only been 10 "4-2-5" games in Mets history. Alfonzo's was the last before Murphy's. The only player with multiple such games is Todd Hundley with three.
Zimmerman does it again
Friday's walk-off home run by Ryan Zimmerman was his ninth, the most in the majors since 2005 (his rookie season). He's one of two Nationals/Expos with multiple game-tying or go-ahead homers against the Mets in the ninth inning or later.
His two are one fewer than Andre Dawson had with the Expos.
Dawson totaled seven go-ahead or tying hits in the ninth or later against the Mets, the most of any hitter
By allowing the homer, LaTroy Hawkins became the second Mets pitcher age 40 or older to allow a walk-off homer. John Franco allowed a pair, one as a 42-year old to Steve Finley of the Diamondbacks in 2003 and once as a 43-year old against Bobby Abreu and the Phillies