NEW YORK -- Pedro Feliciano was surprised to be inserted into a tie game in the ninth inning with the potential go-ahead run at third base in his first major league action in three seasons, especially after arriving at the stadium mid-game.
Feliciano nonetheless got the job done, coaxing an inning-ending groundout from lefty-hitting Alex Gordon, and the Mets went on to beat the Kansas City Royals, 4-2, in 11 innings.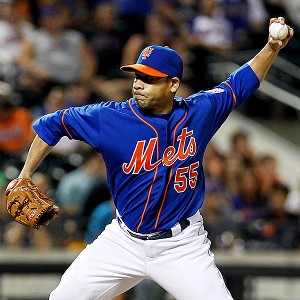 Mike Stobe/Getty Images
After a series of health issues, Pedro Feliciano returned to the majors for the first time in three seasons Friday.
Feliciano was particularly excited to return to the majors with the organization with which he emerged as one of the premier lefty specialists in baseball. He was promoted from Triple-A Las Vegas on Friday after Josh Edgin landed on the disabled list with a fractured rib.
"Back in my house," Feliciano said Saturday morning about Citi Field, after a day to reflect. "When I got that call yesterday morning in Nashville with Las Vegas, my heart started beating."
There have been a ton of obstacles for Feliciano to clear since he last appeared with the Mets in 2010 and set a franchise record with 92 relief appearances.
He never pitched in the majors during two seasons with the Yankees while collecting a combined $8 million. He underwent shoulder surgery on his left rotator cuff on Sept. 8, 2011. Poised to return late the following season, he suffered an ankle sprain while rehabbing in the minors and never wore pinstripes in the majors.
Feliciano then signed a minor league deal with the Mets last offseason, but had a heart issue flagged on his preseason physical and was idled for part of spring training.
Once he was cleared to pitch again, Feliciano developed a severe case of food poisoning known as ciguatera from fish served by his mother during an emergency trip to Puerto Rico because his son had been hospitalized.
"Ten at night ate fish. At midnight I was almost dying," Feliciano said.
Feliciano was prescribed pills, but ended up back in an emergency room in Port St. Lucie after rejoining the Florida State League team. The issue took about six weeks to get out of his system.
"Crazy stuff. Nasty," Feliciano said, who said his body repeatedly got tingles and itchy. His body also would burn if he touched something cold.
The 36-year-old southpaw said he never lost his resolve to return to the majors.
"Like Mariano [Rivera] said when he tore the ACL, 'I'm not going to retire until I get back,'" Feliciano said.