NEW YORK -- Wilmer Flores suspected a promotion might be looming when he started playing third base Saturday with Triple-A Las Vegas, given David Wright had just suffered a strained right hamstring.
"I felt it a little bit, but I wasn't 100 percent sure until I figured it out yesterday," Flores said.
After Monday's 51s game at Memphis, manager Wally Backman informed Flores he was headed to New York for his major league debut. On his 22nd birthday no less, Flores is batting sixth and manning third base on Tuesday night against the Colorado Rockies.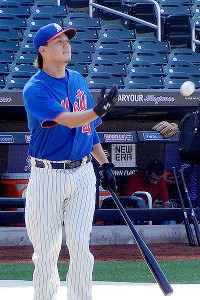 Adam Rubin
Wilmer Flores readies to take batting practice before his major league debut Tuesday afternoon.
"Getting called up on my birthday, you can't ask for more," Flores said.
Terry Collins said he hoped to use Flores consistently at third base in Wright's absence, although GM Sandy Alderson mentioned getting Flores some time at second base as well.
Flores, who signed with the Mets at 16 years old out of Venezuela, moved off shortstop only last season. But he had experienced second and third base in winter ball in his native Venezuela with Magarita even before that Mets transition.
"I haven't played third in a long time," Flores said. "The last three games I played third. I feel really good at third. I think I can handle it."
The Mets settled on promoting Flores (.321, 15 HR, 86 RBIs with Vegas) after deciding it was not in the club's best interest to shuffle multiple players' positions. One strong consideration had been moving Daniel Murphy to third base and Eric Young Jr. to second base.
"Obviously we don't have to move as many people around if Wilmer plays third, although he has been playing second for most of the year and only recently played third base," Alderson said. "... Secondly, bringing him up gives us an opportunity to take a look at him while David is absent. So from that standpoint we're excited about that possibility."
Flores has severe range issues, so the question marks with him are more so in the field than at the plate. Still, Alderson noted, Eric Chavez with Oakland was viewed as a liability in the field while in the minors and emerged as a six-time Gold Glove winner at third base in the majors.
"Until we've see him here, see how he responds at the major league level at various positions, including third base -- possibly playing some second -- I think we'll reserve judgment," Alderson said.
Said Collins: "It's time to get him up here and let him have a little taste of what it's going to be like to play at this level. We know he's a good offensive player. The sky's the limit offensively for him. So we're going to see if he can bring something to the table."
Asked if it felt like a long time since he first signed with the organization at 16 years old, Flores said: "Time flies, man. Time flies. ...
"I know I'm going to be nervous, but I'm going to try to have fun," he added.