LOS ANGELES -- The baby Buck has not received quite the same level of coverage as royal baby George Alexander Louis.
Yet given top catching prospect Travis d'Arnaud's major league debut is contingent upon John Buck going on paternity leave, and given the length of time since the originally stated Aug. 1 due date, the royal blue and orange baby watch is a pretty big deal within Mets circles.
Tim Byrdak lightheartedly tweeted three days ago: "Come on Baby Buck, Travis is waiting for his first big league at bat! #weneedcontractions." Multiple fake Twitter accounts have been created, with names such as @babyBUCK86 and @JohnBucksBaby.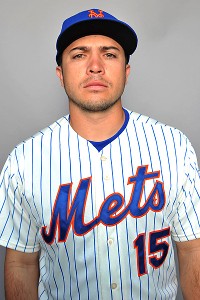 Steve Mitchell/USA TODAY Sports
Travis d'Arnaud is focused on the day at hand while awaiting the baby Buck.
"I've just been trying not to think about it, honestly," d'Arnaud said by phone from Las Vegas, where he is currently playing for the Mets' Triple-A club. "Whatever goes on in the day in front of me is what I focus on, and I'm just trying to win wherever I'm at."
D'Arnaud agreed that the delay in Buck's wife Brooke giving birth has bought time for him to get into midseason form. The 24-year-old d'Arnaud suffered a broken first metatarsal in his left foot on April 17 when he was struck while catching with Las Vegas.
He only returned to game action July 24 in the Gulf Coast League, advanced to Double-A Binghamton a week later, and has been back with the 51s for five games.
D'Arnaud is 7-for-15 with one homer, three RBIs and six walks since rejoining Las Vegas.
"I know John's baby was supposed to be born Aug. 1 or something like that," d'Arnaud said. "[The delay has] given me time to hone my skills and feel a lot more comfortable behind the plate, and when I'm hitting, too. I just didn't have my timing and was trying to do too much. I finally got my game back and my approach back the last two weeks."
D'Arnaud would have liked to have made his major league debut at Dodger Stadium, but that apparently won't happen with the Mets concluding a series here tonight. D'Arnaud grew up 20 minutes from the L.A. ballpark in Lakewood, Calif. He attended two or three Dodgers games a month as a youngster, cheering for favorite players Mike Piazza and Russell Martin.
"That would have been the dream," d'Arnaud said. "That's for sure."
As for the length of time it took to return from the broken foot, d'Arnaud said: "At first they said -- what? -- six to eight weeks. And I think it took an extra month. I guess it's a good thing to make sure it's healed 100 percent. I didn't really stress out about it. It's just the Mets' plan and God's plan."
Mets officials had suggested d'Arnaud had foot discomfort when he started running on flat ground not long after finally getting to shed a protective boot on June 10. But d'Arnaud minimized that issue.
"That first day running on land it just felt like you hadn't ran in two months," d'Arnaud said. "I felt like it was normal, and so did they. So we just kept the progression going."
D'Arnaud's first big league stint, when Buck does finally depart for a paternity leave, probably will only last three days while the veteran catcher is in New York with his wife. D'Arnaud then should return to the major league club after rosters expand Sept. 1.
D'Arnaud was part of the haul the Mets got for R.A. Dickey, which also included right-hander Noah Syndergaard and Gulf Coast League outfielder Wuilmer Becerra.
The catcher actually has played only 84 Triple-A games over two seasons because of injuries. His 2012 season, while still with the Toronto Blue Jays, ended June 25 because of a partially torn posterior cruciate ligament in his left knee, which he suffered sliding into second base trying to break up a double play.
"A little bit of bad luck. A little bit of frustration," d'Arnaud said about the injuries. "I just have to keep my head up and keep moving forward and deal with the cards I was dealt."