SAN DIEGO -- The debut of Travis d'Arnaud may be remembered more for the demise of Jenrry Mejia, at least for the remainder of the season.
Mejia departed with renewed elbow discomfort after delivering his 63rd pitch and the Mets went on to lose to the San Diego Padres, 8-2, Saturday night at Petco Park.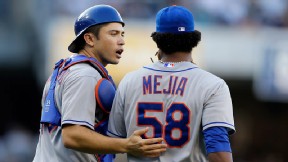 Gregory Bull/Associated Press
Travis d'Arnaud and Jenrry Mejia conference at the mound, before Mejia had to depart with elbow discomfort.
Mejia previously had suggested he will need surgery after the season to remove a bone spur from his right elbow. It causes him periodic discomfort.
David Aardsma entered for Mejia in a 1-all tie in the bottom of the fourth with the bases empty and none out. Aardsma allowed four runs over two innings, including Nick Hundley's tiebreaking two-run homer in a three-run fourth.
D'Arnaud walked on four pitches against Edinson Volquez in the catcher's first major league plate appearance. He finished 0-for-2 with two walks. Batting with two runners in scoring position and two outs in the fifth, d'Arnaud grounded out as San Diego maintained a 4-2 lead.
Volquez, despite entering the game with the NL's highest ERA among qualifiers, limited the Mets to two runs in five innings. The Mets left the bases loaded in the second when Volquez made a solid play to throw out Mejia at first base and prevent an infield single.
Carlos Torres, the logical rotation replacement for Mejia, surrendered a three-run homer to Jedd Gyorko in the eighth, in Torres' second inning of work.
Latest twist: Wilmer Flores went 1-for-4 and played a full game at third base in his first start since twisting his right ankle Monday at Dodger Stadium.
What's next: The Matt Harvey-d'Arnaud battery takes center stage as the Mets complete their four-game series with the Padres. Harvey (9-4, 2.23 ERA) opposes left-hander Eric Stults (8-10, 3.68) at 4:10 p.m. ET Sunday.