This has been some kind of amazing month for Johan Santana, and who saw it coming? We certainly didn't, not after the struggle that was June.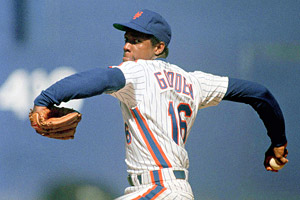 Ray Stubblebine/AP
Mets Hall of Fame inductee Dwight Gooden dominated in September, 1985, like no pitcher in Mets history.
Santana has made five starts. He's pitched at least seven innings each time and allowed no more than one run in each start, with four of those efforts coming against contending teams. (the Braves, Reds, Giants, and Dodgers).
We've talked about Santana's unluckiness and yes, it's unfortunate that he has two no-decisions among these five starts.
It's not quite the unluckiest month in Mets history –- Tom Seaver could lay claim to that, having lost three times in August, 1973, while posting an 0.99 ERA.
But with one start to go, it's got the potential to be one of the best.
It's important that we say one of, because it's not the best, and it won't be the best (unless Santana throws a no-hitter on Wednesday Night Baseball on ESPN at 7 tonight).
There is only one best in Mets history, one that has set the standard by a herculean margin.
We're talking about Dwight Gooden's September of 1985, which also happens to be the last time a Met made five straight starts in a single-season (Rick Reed did it from end, 1999-start, 2000), going at least seven innings and allowing one run or fewer in each
Except there's one difference, statistically speaking. Santana has allowed three runs in 38 innings, good for an 0.71 ERA. In Gooden's September, 1985, he allowed one TOTAL run in five starts. It was unearned.
Best ERA in Calendar Month
Mets History (Minimum 25 IP)
Gooden's line for the month – 44 innings pitched, 24 hits allowed, 39 strikeouts, nine walks, and a 0.00 ERA. No other Met has even completed half as many innings in a calendar month with a 0.00 ERA (Rick Aguilera comes closest, with 19 1/3 in May, 1989)
Gooden will be enshrined in the Mets Hall of Fame on Sunday, in this the 25th anniversary of the best pitching season in Mets history (24-4, 1.53 ERA).
That was a year in which he was as big in sports as Magic Johnson, Joe Montana, and Wayne Gretzky. He had a 95-mile-per-hour fastball and a drop-off the table curveball and had taken the sport on his shoulders at the age of 20.
There would be rough going for Gooden in the future, but this was the present, and the month was a present to Mets fans.
The best month of that best season came in the heat of one of the most intense pennant races ever experienced by Mets fans.
Here's a quick start-by-start summary based on our recollections and newspaper accounts we tracked down from that era. If you remember this like I do, it should bring a smile to your face.
September 6 -- Like the Mets-Dodgers affair from this past Saturday, this was a 13-inning clash in Los Angeles lacking in offense, except the reason for this one was the pitching brilliance of Gooden and Dodgers starter Fernando Valenzuela.
In a much-anticipated matchup before a sellout crowd ("I don't know why everybody is making a big deal about it," Gooden told reporters the day before), Gooden went the first nine, allowing no runs and five hits, striking out 10 (Valenzuela threw 11 scoreless innings- -- the last pitcher to throw that put up that many zeroes against the Mets).
The Mets would prevail for their fifth straight win, staying within 1 ½ games of the Cardinals (remember: no wild card then) when fellow Hall of Fame inductee Darryl Strawberry doubled in two runs in the 13th and Jesse Orosco survived a bases-loaded threat in the bottom half.
One of the sub-headlines on Peter Gammons column in that Sunday's Boston Globe told you what you needed to know of how Gooden was thought at the time: "Mozart vs Fernando."
Said former Dodger and recent Hall of Fame inductee Don Drysdale in a story in the Torrance Daily Breeze: "He's someone who comes along only every so often who is head and shoulders above his class."
September 11 –- This was another epic pitching matchup –- Gooden was involved in two of the best in club history in a five-day span –- against the first place Cardinals and lefty John Tudor, who was in the midst of a stretch in which he'd win 20 of his last 21 decisions.
On the day when Reds first baseman Pete Rose broke Ty Cobb's hit record, Gooden and Tudor dueled zeroes for nine innings, with Gooden posting a near-identical line to his last start—nine innings, no runs, five hits, seven strikeouts.
Sportwriter Bruce Jenkins called it "A Cooperstown nine innings." Even as a 10-year-old in the stands, I had a feeling it was something pretty impressive.
Alas, this one had an unhappy ending, when Cesar Cedeno homered off Orosco in the 10th and Tudor struck Strawberry out as the winning run in the home 10th to end the game. The loss left the Mets and Cardinals tied for first place with 25 games to go.
September 16 – Undaunted by the lack of support and the back-to-back no decisions despite 18 virtuoso innings, Gooden took the mound at home against the Phillies with the Mets now trailing the Cardinals in the standings. This time they'd support him early –- with a run in the first inning –- and often, with nine runs total.
Gooden took a one-hitter into the ninth and finished with 10 strikeouts, a two-hit shutout and a 31-inning scoreless streak that dated back to his last start in August.
"He had good enough stuff to throw a no-hitter," said Gary Carter, who supported Gooden with a three-run homer, afterwards.
September 21 –- Horror of horrors, in the first inning against the lowly Pirates, Gooden gave up a run, an unearned one at that caused when Mookie Wilson muffed a fly ball to start the game, and the runner came around to score on a groundout.
The Mets made up for it and then some, scoring four times in the first to get Gooden to the plate against Pirates starter Rick Rhoden with two on.
Shocker of shockers, he smacked a home run to right field, putting the Mets ahead 7-1, breaking Seaver's record for hits in a season by a pitcher and sending the crowd of nearly 50,000 into delirium.
"I'd have to say this is my biggest thrill," Gooden told reporters after. "It was like I was dreaming when I went around the bases."
With the game safely in hand, Gooden left after eight innings with only four strikeouts, with the Mets up, 12-1. It was the only time in this streak that he wouldn't go at least nine innings.
Dwight Gooden
September 1985
September 26 –- With four straight starts and a streak of 39 straight innings in which he didn't allow an earned run, Gooden was locked in, both on the mound and at the plate. This, despite the Mets being in ultimate survival mode, four games back with 10 to play.
He'd add another RBI to his total and toss another shutout, as if this was a routine thing. This one was an eight-hitter against the defending NL East champion Cubs at Wrigley Field.
In this one, the newspapers reported that the Mets were suspicious that the Cubs had their signs. But whenever Gooden needed an out, he got one.
"In games you can't afford to lose, there's no better pitcher," manager Davey Johnson, also being inducted Sunday, said after the game.
That last comment still holds true today, even in light of Johan Santana's current streak.