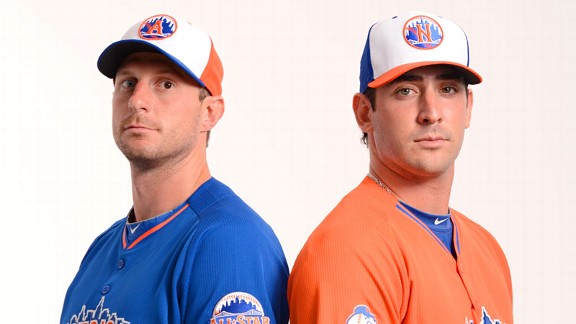 Rob Tringali/Getty Images
The decision to keep Matt Harvey on an extra day of rest likely sets up a matchup with fellow All-Star starer Max Scherzer Saturday.After considering using Matt Harvey on standard rest Friday and skipping the rotation slot formerly occupied by Jenrry Mejia, the Mets instead will give Harvey an extra day of rest, as originally planned.
That seemingly sets up a matchup of All-Star starters Saturday at Citi Field -- Harvey against Detroit Tigers right-hander Max Scherzer (18-1, 2.82 ERA).
That also means the Mets will need a starter for Friday's series opener against Detroit. Collins said the options are Carlos Torres as well as the entire Triple-A rotation with the exception of Rafael Montero, the top prospect who does not need to be added to the 40-man roster this offseason. Options include: Jacob deGrom, Giancarlo Alvarado, Chris Schwinden and Matt Fox.
DeGrom, the prospect of that bunch, needs to be added to the 40-man roster this offseason anyway. Mets insiders previously had downplayed deGrom's candidacy, since he seemingly already has thrown 29 1/3 innings more than last season. But Paul DePodesta said the jump is actually less, since deGrom logged innings in extended spring training in 2012 that would not be reflected in that total.
DeGrom, who began this season in Class A, has jumped all the way to Las Vegas and took a perfect-game bid into the sixth inning Sunday at Salt Lake. DeGrom is 4-2 with a 3.93 ERA in 12 starts in the Pacific Coast League.
Mejia likely will undergo surgery soon to remove a bone spur from his pitching elbow. He was placed on the disabled list Sunday.
Harvey threw only 86 pitches Sunday at San Diego. But using him on standard rest now would mean making it more likely he is cannot complete the season because of an innings cap, Collins has said.