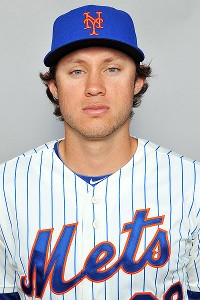 Steve Mitchell/USA TODAY Sports
Matt den Dekker
NEW YORK -- The Mets plan to promote left-hander Robert Carson and outfielder Matt den Dekker to the majors from Triple-A Las Vegas, according to sources, although the moves have not yet been announced. Anthony Recker also is believed to be joining the group.
Matt Harvey to the DL would clearly be one roster move. It's unclear how the Mets would open the other roster spot or spots.
It's worth noting the waiver trade deadline is Saturday. (And Recker's potential return could signal something involving John Buck, although that's getting way ahead of the actual information available.)
Den Dekker, an expected September call-up since he needs to be added to the 40-man roster this offseason, broke his right wrist during spring training. He joined Las Vegas on July 1 and has hit .296 with six homers, 38 RBIs and a .366 on-base percentage in 53 games. And that's with an 0-for-18 start to his Triple-A season while still getting up to speed.