WASHINGTON -- Well, the Washington Nationals will not be headed to the postseason either, if that is any consolation.
Zack Wheeler took a scoreless effort into the sixth, Matt den Dekker produced his first major league hit and RBI and the Mets routed Washington, 11-3, Saturday night at Nationals Park.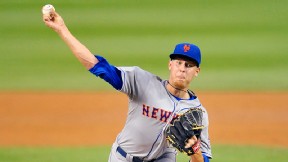 Joy R. Absalon/USA TODAY Sports
Zack Wheeler improved to 7-3 as the Mets routed Washington.
The one downside to the evening: The Mets lost Ike Davis to a potentially season-ending right oblique strain. Davis clutched his side as he produced a sac fly in what became a six-run third inning.
Den Dekker's first major league hit came later in that frame, on a bloop RBI single over shortstop that staked the Mets to a 5-0 lead and chased Nats starter Dan Haren.
Reliever Tanner Roark entered and eventually walked Wheeler with the bases loaded to force in another run.
The six runs and seven hits each matched Mets season highs for an inning in 2013. Their 17 hits for the game set a season high.
Eric Young Jr. and Daniel Murphy each had three hits and two RBIs. Josh Satin also had three hits.
The Nats had entered the weekend having surged to pull within 6½ games of the Cincinnati Reds for the second wild-card spot, but now have lost consecutive games to the Mets.
Meanwhile, Wheeler (7-3) held the Nats to two runs on five hits, one walk and a hit batter in 6 2/3 innings.
Washington loaded the bases with one out in the sixth. Jayson Werth then produced a sacrifice fly and Ian Desmond followed with an RBI single that pulled the Nats within 8-2. Wheeler recovered by retiring Adam LaRoche on a lineout to center field.
Wheeler struck out three in a 99-pitch effort. He had retired the game's first eight Nats batters before surrendering an infield single to Roark.
Golden arm: After shifting to right field to play alongside den Dekker for the first time, Juan Lagares recorded his 12th outfield assist, tying Tsuyoshi Shinjo for the franchise rookie record. The victim: Bryce Harper, who tried to leg out an eighth-inning triple while trailing by nine runs. Harper had received flak for not running out a grounder Friday ... and went a little too far to the other extreme.
What's next: September baseball, meaningful or not. Left-hander Jonathon Niese (6-6, 3.69 ERA) opposes right-hander Ross Ohlendorf (2-0, 2.58) at 8:05 p.m. Sunday on ESPN. The Mets will aim for their first series sweep in D.C. since 2008.