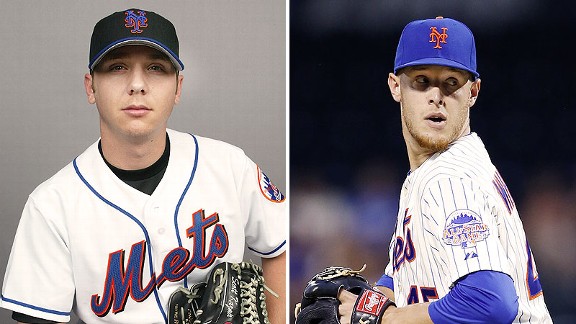 Getty Images
Former top prospect Scott Kazmir faces current phenom Zack Wheeler on Friday in Cleveland.ATLANTA
FIRST PITCH: Scott Kazmir once was the ace-in-waiting for the Mets, the organization's top prospect, on the verge of a promising major league career.
Or, the Zack Wheeler of a decade ago.
Then, with the Mets entering a series at Turner Field and trailing the first-place Atlanta Braves by six games, team officials startled baseball by dealing a 20-year-old Kazmir to Tampa Bay on July 30, 2004 for Victor Zambrano.
Of course, the Mets proceeded to get swept by the Braves that series, with Zambrano unavailable to pitch because of a balky elbow.
While Zambrano ended up 10-14 with a 4.42 ERA over three seasons as a Met, Kazmir became a two-time All-Star.
The only thing that salvaged the trade becoming historically bad is injuries to Kazmir, who ended up pitching last year in independent ball with the Sugar Land Skeeters.
Now, worlds are set to collide, as the 29-year-old Kazmir lines up to face the 23-year-old Wheeler on Friday night in Cleveland. It will mark Kazmir's first time ever facing his original organization.
Wheeler had no idea Kazmir ever was a top Mets prospect. He does now.
Of course, the Mets first continue a series in Atlanta, where that Kazmir trade (as well as one with the Pittsburgh Pirates for Kris Benson) went down nearly simultaneously nine years ago.
Carlos Torres (3-2, 2.77 ERA) opposes right-hander Kris Medlen (11-12, 3.58) at 7:10 tonight.
Tuesday's news reports:
• Daisuke Matsuzaka surrendered six runs in three innings and the Mets lost to the Braves, 13-5, on Labor Day at Turner Field. Afterward, Terry Collins pledged Dice-K would make another start, Sunday at Cleveland. Still, it is worth noting that Aaron Harang made his organization debut Monday, allowing a two-run homer but no other damage in four innings with Triple-A Las Vegas. And Dice-K continuing is more of a front-office decision than Collins' to make.
Harang logically would be an alternative to Matsuzaka, although Collins noted the Mets will need a sixth starter, including for a Sept. 14 doubleheader against the Miami Marlins.
Also in Monday's game against the Braves, Tim Byrdak tossed 1 1/3 scoreless innings in his first major league appearance since Aug. 1, 2012. And newly acquired reliever Vic Black inherited a bases-loaded jam and escaped by coaxing a flyout to right field from Andrelton Simmons.
Read game recaps in the Post, Daily News, Times, Newsday, Star-Ledger, Record, Journal and MLB.com.
• Ike Davis said his goodbyes Monday, figuring he would be headed home to Phoenix for the remainder of the season after traveling to New York today and undergoing an MRI on his right oblique strain.
• Josh Satin plans to learn how to play the outfield this offseason, and hold Marlon Byrd to a vow to teach him. "I've got a promise from Marlon Byrd that after I'm done with my wedding in November that he would train me on how to be an outfielder," Satin told Mike Puma in the Post. "Now that he's gone, let's see if he lives up to that. I'm going to be all over him, calling him every day to work with me, because that's a big key. Being able to fill in out there will definitely help me."
• Read more on Harang in the Daily News and Star-Ledger.
• Read more on Byrdak in the Star-Ledger and Newsday.
• Brooklyn was eliminated from postseason contention with its fourth straight loss. Greeneville beat Kingsport, 7-2, to set up a winner-take-all Game 3 tonight in that Appalachian League playoff series. Read the full minor league recap here.
• The Mets held their fantasy football draft on Monday night.
Midway through the draft, Satin tweeted about a team he shares with Justin Turner: "so far team turner and satin has rice, mjd, Andre Johnson, colston, Hakeem nicks, and Colin kaepernick."
David Aardsma tweeted: "My Mets draft so far... P. manning, A. Morris, Daryl Richardson, b. green-Ellis, Aj green, d. Bowe, James jones, v. Davis"
And Dillon Gee tweeted about the team he co-owns with Scott Rice: "Team #GEEsusRice so far: Doug Martin,Demarco Murray, Brandon Marshall,jordy Nelson,Boldin,Stafford and Greg Olsen!! #FantasyFootball"
• ESPN named Juan Lagares its defensive player of the month for August.
From the bloggers ... As Dice-K labored, Faith and Fear in Flushing let its mind wander to other Mets Septembers.
BIRTHDAYS: Ced Landrum was born on this date in 1963.
TWEET OF THE DAY:
Here's the crew that is in attendance! #LGM Thanks a lot to @JunkFoodTees for supplying the shirts! pic.twitter.com/LvU9DJXUPy

— Justin Turner (@redturn2) September 3, 2013
YOU'RE UP: Would you prefer Aaron Harang start Sunday at Cleveland?