ATLANTA -- Dillon Gee knew his rotation spot was in jeopardy entering a May 30 start at Yankee Stadium. Gee carried a 6.34 ERA into the Bronx and recognized either Jeremy Hefner or he was poised to soon get bounced with Zack Wheeler's debut looming.
"I knew it. Everyone knew it," Gee said. "Everyone was talking about it."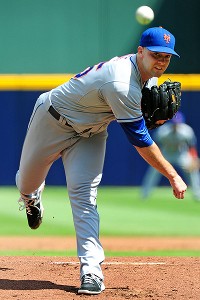 Scott Cunningham/Getty Images
Dillon Gee limited the Braves to one run in seven innings Wednesday.
Then Gee limited the Yankees to one run in 7 1/3 innings. And Jonathon Niese landed on the disabled list with a rotator cuff strain, eliminating the need to create a rotation vacancy anyway.
And now Gee leads the Mets in starts and wins.
In his career-high 28th start Wednesday, Gee limited the Atlanta Braves to one run in seven innings in a 5-2 win. He improved to 11-9.
Since that game at Yankee Stadium, Gee has produced a 2.40 ERA in 18 starts.
For the season, he has now logged 173 1/3 innings, with potentially five starts remaining.
"It was really tough finishing the year on the DL last year and having to watch the team and not be able to be there and help out," Gee said. "My main goals this year coming into spring training were to get to 200 innings and take the ball every time it was my turn. I've done that so far."
Said Terry Collins: "He is not walking anybody. Early in the year we had conversations where we were talking about it was uncharacteristic because he walked two or three guys, or four guys. And he's not doing that. And therefore he's saving those pitches and he's getting easy outs."
Collins figures health is partly a reason for Gee's surge.
Gee missed the second half of last season after undergoing emergency surgery during the All-Star break to repair a damage artery in his pitching shoulder. He then dealt with persistent forearm tendinitis during the first half of this season.
"I think Dillon really had to prove to himself that he was healthy," Collins said. "And then the forearm issue, during the game it would flare up at certain times. In the back of your mind, you're always waiting for it to hurt."