NEW YORK -- Aaron Harang was cut loose by the Seattle Mariners after an Aug. 25 start, late enough in the season to call it a year.
So why did he sign with the Mets, who are not playoff bound?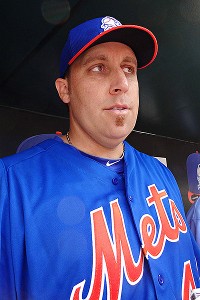 Adam Rubin
Aaron Harang joined the Mets on Monday.
The answer sounded a lot like the reasoning for Daisuke Matsuzaka -- the ability to pitch in a rotation down the stretch to set up a contract next year.
Harang, who had a 5.76 ERA with the Mariners, is due to enter the rotation Thursday, in the series finale against the Washington Nationals at Citi Field. He made two appearances with Triple-A Las Vegas before joining the Mets.
Jonathon Niese, Thursday's originally scheduled starter, presumably will get extra rest.
"We had some other teams, but the biggest thing was here getting a chance to finish out the season in the rotation," Harang said. "There was some uncertainty with other teams. They weren't sure where I was going to fit in -- and even how much I was going to get to pitch being out of the bullpen, because most teams had their set guys that they were going to go to. It was going to be up in the air for me."
Harang, 35 allowed seven runs apiece in three of his final five starts with the Mariners. From 2003 through '12 he had pitched exclusively in the National League, with the Cincinnati Reds, San Diego Padres and Los Angeles Dodgers.
"I just had a hard time fitting in to the American League," Harang said. "I had been in the National League for so long. They always say there's a transition period. I had some real good games that I threw, and then I had some bad ones. I think the biggest thing was just getting comfortable and finding that consistency I need to have to give the team quality outings every five days."