NEW YORK -- Davey Johnson does not rule out ever donning a major league uniform again. But, in all likelihood, this Mets-Nationals series marks his last time managing in Queens.
Johnson, 70, is done managing the Nats after this season.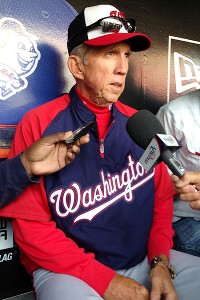 Adam Rubin
Davey Johnson is likely managing his final series in Queens.
"I'm not really very nostalgic," he said. "This, to me, is still Shea Stadium because that's home. I always have more comfort coming to this ballpark -- the same with Atlanta, Philadelphia, places I've been and played. And I never think this may be the last time that I come here. Who knows? You never know what's going to happen to me."
Johnson does not rule out managing again, even though he may not get another chance. He does not hide that it is not his call to end his run at the Nats helm at the end of this season.
"This is my last year managing the Washington Nationals. It's not a big secret," Johnson said.
Beyond that?
"I never know," Johnson said. "I'm always looking for challenges. I feel too young to be retiring. Sometimes the phone rings, and if it's interesting and challenging I leap at it. And it could be managing a wood-bat league in Florida. I haven't gone to Australia yet, so that would be a challenge. But I don't know. I don't go that far [ahead]. My wife's the only one that goes that far out. She wants to know what we're doing next month, next year."
Johnson, who managed the '86 Mets to the championship, said he likes visiting New York with other clubs.
"I've really enjoyed it," he said. "A lot of times taxi drivers, policeman, fire department, they're the ones that mostly say, 'Hey, Skipper, how ya doin'?' That's kind of fun. Sometimes they yell at me after they pass me by. ...
"I like the challenge that comes with playing here, in this city. And I like seeing how difficult it is for some other people to handle it sometimes. That's always fun. It's always more interesting here."