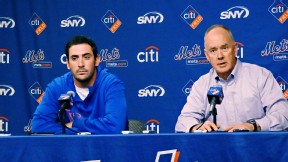 Adam Rubin
Matt Harvey and Sandy Alderson discuss the upcoming plan.
NEW YORK -- Matt Harvey will try to rehab his right elbow and undergo a throwing program for the next six to eight weeks.
Harvey still could undergo Tommy John surgery this offseason for the partially torn ulnar collateral ligament if the elbow continues to have issues.
Harvey sought a second opinion Monday from Dr. James Andrews in Pensacola, Fla.
Read the full news story here.