NEW YORK -- Terry Collins expects David Wright will play in his first major league game in seven weeks in Friday's series opener in Philadelphia, assuming Wright makes it through Thursday's workout without issue.
Wright suffered a Grade 2 right hamstring strain on Aug. 2.
"He went back-to-back days with pretty good intensity, so I just want to see how he feels," Collins said. "... I just know it's going to be the top of the ninth inning tomorrow night and there's going to be a runner at third base with two outs, and he's going to hit a chopper and he's going to bust it down that first-base line. So we've got to make sure his legs are ready."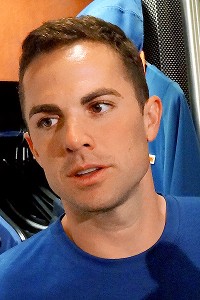 Adam Rubin
David Wright
Wright was a little more cautious in assuring a Friday return.
"When you start making predictions and they don't come to fruition, then all of a sudden it's viewed as a setback, and that's not the case," Wright said. "I'm not ready to make any predictions or anything. We'll see how I feel today and then we'll discuss what tomorrow holds. I feel as good as I can. It's tough kind of being away from doing those types of things for so long, and then all of a sudden doing it, and doing it trying to rush everything to play as soon as possible.
"I'm not really too sore. The doctors' point of view and trainers' point of view is that it takes time. It's just not something that you can be away for six weeks and all of a sudden just snap your fingers and go out and play in a baseball game. It might look like it doesn't take all that much athleticism to play, especially with some of the guys that we've got, but you've got to be in that baseball shape. I think that it takes a little bit of time to get into that baseball shape, and I'm getting pretty close."
Wright acknowledged there is no way to test the hamstring with a burst until he gets into a game.
"As much as I'd like to say I go out there and I try to give as much effort as I can on the bases, there's a different switch that goes off when you get into a game," he said. "If you need to get to first, or you need to score on a single, or something like that, that just can't be replicated."
Wright would like to regularly play once he returns, but will defer to Collins' and the medical staff's wishes.
"I hope it's not that," Wright said about playing every other game or something comparable. "I would hope they let me play the majority. If Terry comes up and says, 'Hey, look, this is what it's going to be,' then this is what it's going to be. As much as I'd like to play -- it's important for me to finish the season, personally, as I've mentioned -- but it's equally as important for me to finish the season healthy. I don't want to go into the offseason having to rehab something and the uncertainty of coming into spring training a little hurt."
Wright remains resolute that it is smart to return before the season ends, rather than wait until spring training after several months of the hamstring avoiding bursts.
"If I'm able to play, I want to play," Wright said. "I don't understand somebody that's healthy, that can play, that doesn't play. I'm going to probably have to do those bursts in February in a game, so at some point you've got to figure out and feel confident being healthy.
"I've said it a number of times, there's a number of different reasons [for returning now]. One, this is what I want to do. I want to play. Also, I'd like to obviously play in front of the fans the last homestand. And then mentally, for the team and myself, I'd like to finish this year strong, going into next year with at least a little bit of momentum. With how things have gone this year, there's not too many positives you can take away from this. At least you want to try to win some of those smaller battles down the stretch where you have some things to feel good about going into the offseason."