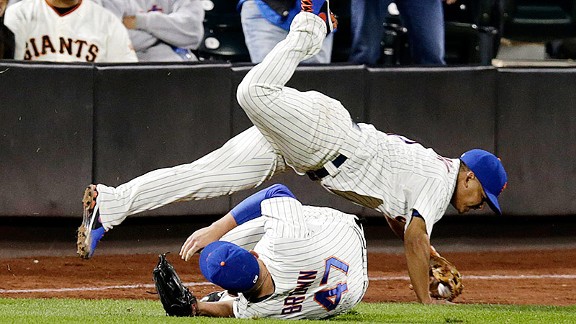 Kathy Willens/Associated Press
Ruben Tejada suffered a fractured right fibula on Wednesday when he got tangled with Andrew Brown while making a catch.NEW YORK -- Terry Collins emphatically stated that Ruben Tejada is the Mets' best internal option to be the 2014 Opening Day shortstop. But once the shortstop's broken leg heals, Collins added, Tejada must demonstrate he wants the role.
Tejada suffered a broken right fibula in the ninth inning on Wednesday. He is not expected to require surgery.
#11 SS
New York Mets
2013 STATS
GM

57

HR0

RBI10

R20

OBP.259

AVG

.202
"We're going to have a discussion with him when gets here today. I know he's going to the doctor, but I think he's coming here first," Collins said. "My message is real simple: This job is his, but he's got to show everybody that he wants it desperately. Like any professional athlete, you've got to say, 'Hey, look, I'm going to dedicate this offseason to show up next spring and be the best player that I could possibly be.' He's good enough to be that guy. But, as this year showed, hey, look, no job is that secure. You've got to come in and say, 'This is my job. I'm taking it. Nobody else is going to get it.'
"And that means, obviously, when his leg is ready that there's got to be an intense rehab program put in place, and that when he shows up in early February or late January or whenever he comes down there that he's in the best shape of his life."
Sandy Alderson has been openly critical of Tejada's work ethic. The GM has said it is like "pulling teeth" to get Tejada to do non-mandatory work.
Collins did not exclude the possibility the Mets go outside the organization this offseason and acquire a shortstop. He merely stated that if Tejada demonstrates the work ethic, he is a better option than Omar Quintanilla, Justin Turner, Wilfredo Tovar, Wilmer Flores or anybody else the Mets currently have.
"I've been in the game way too long. Nothing surprises me," Collins said about an external addition. "As I've told you guys, I don't ever worry about who's not here. The guys who are here right now, that should be his job, but he's got to go get it. It's not going to be handed to him."