PHILADELPHIA -- Terry Collins indicated David Wright ideally will play eight of the season's final 10 games now that he has been activated from the disabled list.
On Friday night, Wright makes his first start since suffering a Grade 2 right hamstring strain on Aug. 2.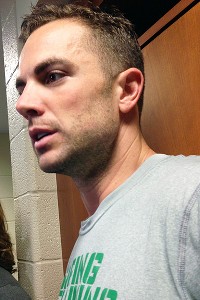 Adam Rubin
David Wright speaks in the visitors' clubhouse at Citizens Bank Park before Friday's return to the lineup.
Collins initially planned to have Wright play Friday and Saturday and have Sunday off, then play two games in Cincinnati and take the matinee finale there off, too. Wright instead preferred to see how he feels day by day before committing to playing on that schedule, although the captain reiterated he hopes to play the "majority" of the Mets' remaining games.
"I feel ready," Wright said. "The only way to kind of really know 100 percent if you're ready is to go play a game. There's not anything else I can do to prepare."
Wright said he is not going to run with less urgency to first base to guard against re-injury, even when the game is not on the line.
"I think once you get between the lines, it's just second nature kind of takes over," he said.
Wright has not faced any bona fide pitching during his rehab, so he does not figure to be very sharp. The closest he came to seeing real pitching came from coach Ricky Bones, who last appeared in the majors in 1991. Wright estimated those pitches felt like 85 mph when the fact that Bones was starting closer than 60 feet, six inches was taken into consideration.
"This is probably the first time besides coming into spring training when you don't get into game situations before playing in games," Wright said. "I don't think I can expect to go out there in the form, I guess, I'm normally in this time of year, because I haven't really faced any live pitching. Hopefully that will come back somewhat quickly. It's kind of an interesting circumstance because there's just no way to get ready that way for a game. ...
"The tough part now is to go from zero to 100, obviously. At least from the back thing I got to play in some rehab games to kind of get my feet back under me."