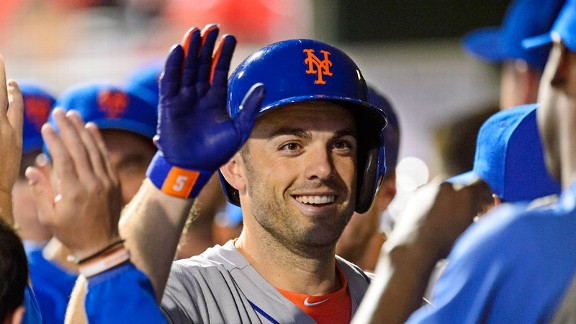 Howard Smith/USA TODAY Sports
David Wright homered in his first at-bat, giving him 221 long balls for his career.PHILADELPHIA -- David Wright's reaction to homering in his first at-bat in exactly seven weeks?
"It's one of those things. I was telling these guys: I guess Ricky Bones was better than I thought," quipped Wright, referring to the Mets' bullpen coach, who threw him batting practice to prep the captain for his return from the DL. "It got me ready pretty good.
#5 3B
New York Mets
2013 STATS
GM

106

HR17

RBI56

R61

OBP.391

AVG

.310
"It was just fun to be back out there. You feel like when you're hurt, you're not really part of the team and not part of that camaraderie. To get out there and to get those competitive juices flowing again, that was fun. You don't really know how much you miss it until you're out for the six or seven weeks."
After homering in his first at-bat while facing Cole Hamels, Wright finished 2-for-5 in his first game since suffering a Grade 2 strain of his right hamstring. The Mets beat the Philadelphia Phillies 6-4.
Terry Collins expressed curiosity postgame how Wright will feel Saturday, although Wright believes he should be OK.
"These games are long. I forgot how long it is," Wright said. "I'm sure I'll be a little sore tomorrow, but I should be fine. I just need to get back in the flow of the game. It feels a little herky-jerky right now instead of just smooth. That will just come with getting a little more playing time. All in all, it was a positive day."
Asked if he was able to play without thinking about the hamstring, Wright said: "I want to be able to just flow and react, and I'm not quite there yet. There were a couple of balls, especially defensively, where I can charge them a lot harder. I'm just not quite there yet as far as the rhythm of the game and that kind of explosiveness that I feel I had before I got hurt. I think that just, more or less, has to deal with it's my first game in a month and a half than anything to do with the hamstring."
The homer gave Wright 221 for his career, passing Mike Piazza for second on the franchise's all-time list. Piazza produced his long ball total in 3,478 at-bats as a Met. Wright now has 5,155.
Piazza will be inducted into the Mets Hall of Fame before the regular-season finale, on Sept. 29.
"Especially with Mike being honored next week, to surpass him in a statistical category, you know you're doing something right," Wright said. "To be mentioned in any kind of sentence with Mike is pretty special, because obviously he's a Hall of Fame hitter, Hall of Fame catcher and one of the best to ever play the game."
Wright now is 31 homers from matching Darryl Strawberry for first on the Mets' all-time list.
Can he catch Straw by the end of the 2014 season?
"I don't know," Wright said. "It's been a few years since I've hit 30 homers. I hope. I hope. It would be a pretty good year if I could do that."