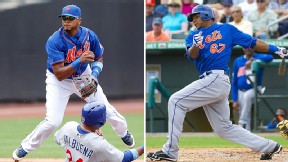 USA TODAY Sports
Jordany Valdespin and Cesar Puello have fully served 50-game suspensions.
NEW YORK -- Two days after Jordany Valdespin completed his 50-game PED suspension related to Biogenesis, Double-A outfielder Cesar Puello's suspension is now served as well.
Puello was moved from the restricted list back onto the 40-man roster Thursday. Matt Harvey was transferred to the 60-day DL to open the spot.
Puello, 22, hit .326 with 16 homers and 73 RBIs in 331 at-bats with Binghamton in 2013.
Unlike Valdespin, who may not survive the winter on the 40-man roster, Puello is expected back in major league camp in spring training.