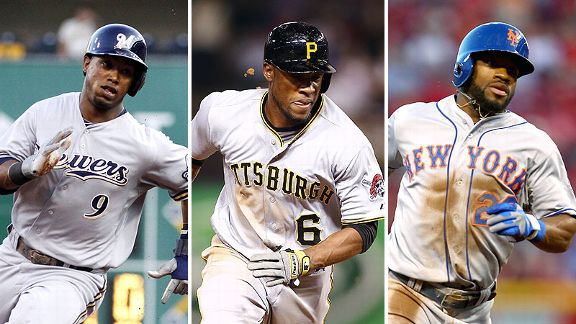 USA TODAY Sports, Getty Images
Jean Segura, Starling Marte and Eric Young Jr. all have a shot at the NL stolen-base title.NEW YORK -- The National League's two stolen-base leaders are at Citi Field for this weekend's series.
The only problem? Milwaukee's Jean Segura, who has a league-leading 44 steals, has a hamstring injury and may not play again this season. And even if does play, it is unlikely he would attempt to steal given the hammy whammy.
So Eric Young Jr., who has 42 steals with four games remaining, has a strong chance to catch Segura for the steals lead.
No. 3 is Starling Marte of the Pittsburgh Pirates with 40. Marte had three steals Wednesday to surge into contention.
The Mets' last steals leader was Jose Reyes with 78 in 2007.
Eight of Young's steals this season came with the Colorado Rockies.