NEW YORK -- First-round pick Dominic Smith pronounced his first professional season a success, albeit an exhausting success.
The 18-year-old Smith, the 11th overall pick in June out of high school in Los Angeles, hit .287 with three homers and 22 RBIs in 167 at-bats in the Gulf Coast League. He then was shifted to Kingsport during the final week to participate in the Appalachian League playoffs.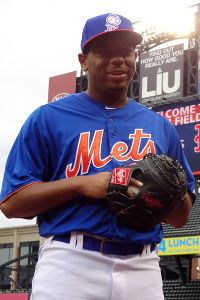 Adam Rubin
Dominic Smith, at Citi Field on Friday.
"The transition from high school to pro ball, it was tough in the beginning," Smith said Friday at Citi Field. "Once I got the transition down, I played really well."
Smith said the biggest adjustment was playing every day.
"I don't know how much people can emphasize that, but until you really do it, you don't understand what it totally does playing every day," Smith said. "Playing every day is tough -- just being able to get up every day and play hard, at the high level that people expect you to play at."
As for his Kingsport experience, Smith appreciated the team embracing him despite him arriving as the season was concluding. He also enjoyed the nighttime games after playing day games in the Gulf Coast League.
"They welcomed me in with open arms, like I was one of their brothers already," Smith said. "I really did enjoy myself playing under the lights with a nice crowd."
Smith was at Citi Field on Friday to be honored with a Sterling Award for being the organization's top performer in the Gulf Coast League. He was ranked the fourth overall prospect in the league by Baseball America.
Smith also was at Citi Field in June, days after attending the draft in Secaucus, N.J.
"I was just up in a whirlwind since I got drafted," Smith said. "I went from the high school championship game to the draft to New York, because I got drafted by a New York team. I went home for a couple of days and then played my season and got called up. I really haven't taken a couple of days to just sit back and take everything in."