NEW YORK -- Noah Syndergaard put up crazy numbers in Double-A after a promotion from St. Lucie. He went 6-1 with a 3.00 ERA and had 69 strikeouts in 54 innings with Binghamton.
The numbers would have been even more unreal if he had not been rocked for nine runs in three innings in his final regular-season start, after being skipped one turn.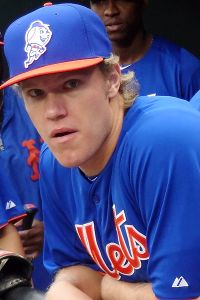 Adam Rubin
Noah Syndergaard watches batting practice Friday at Citi Field.
So what is left for Syndergaard to work on before he reaches the big leagues? Probably his changeup, said Syndergaard, who was acquired from the Toronto Blue Jays last December with Travis d'Arnaud for R.A. Dickey.
"I feel like right now I have a plus fastball with the command to go with it, and a plus curveball," Syndergaard said Friday at Citi Field, where he received a Sterling Award as the top performer with the B-Mets. "Right now, I've shown pretty good signs of improving the changeup. I just don't throw it that often. There are certain situations where I really don't need to throw the changeup.
"That's something Abby [Binghamton pitching coach Glenn Abbott] and I worked on in Binghamton -- no matter if you don't need it, you've still got to develop it. That's the big picture. You don't want to pitch in Double-A or Triple-A. Ultimately you want to pitch in the big leagues."
The Mets treated Syndergaard gingerly as his innings rose in 2013.
Not only did Syndergaard skip that late-season start the turn before getting beat up, he also routinely had his outings capped at five innings.
During a three-start stretch in mid-August, Syndergaard tossed 15 scoreless innings, allowing only seven hits and two walks while striking out 18. Yet he was pulled with pitch counts of 66, 56 and 66 during that stretch.
Asked if being routinely pulled prematurely from games was frustrating, Syndergaard said: "Yes and no. Yes, because I wanted to go farther into games and get my innings limit up. But, no, I wasn't that agitated, because I know there's a bigger picture involved."
Syndergaard already has pitched at Citi Field, by the way. He was the Futures Game starter opposite fellow Mets prospect Rafael Montero on July 14. Syndergaard tossed a scoreless inning, as did Montero.
"I'm glad to be back here," Syndergaard said.