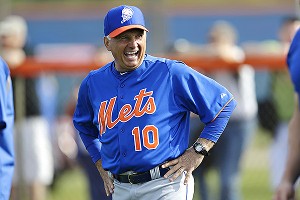 Julio Cortez/Associated Press
Terry Collins will get a two-year extension with team option for 2016.
NEW YORK -- The New York Mets are nearing a two-year contract extension with manager Terry Collins that includes a team option for 2016, a team source told ESPNNewYork.com.
The deal, which is not yet complete, should be announced as soon as Monday.
"It's well-documented that there's been probably a lot more talent on teams that are in our division," David Wright said. "And I think he's done a nice job keeping the young players motivated. And just, all in all, I think he deserves to be back. And then hopefully -- with the money we have to spend and some of the trade opportunities -- we're a better team for him to manage."
Read the full news story here.