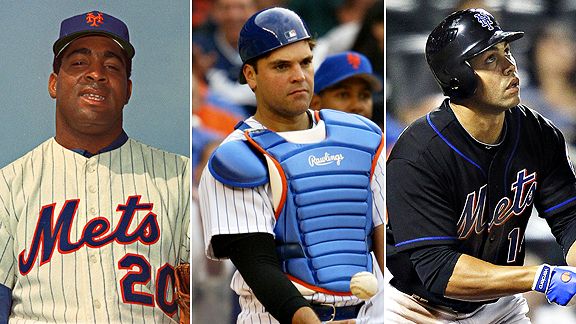 AP Photos
Tommie Agee, Mike Piazza and Carlos Beltran are a few of the Amazin's who've aced Atlanta.
Could Jeff Francoeur someday make the all-time list of Braves-killers in Mets history?
Maybe the home run to win Tuesday's game (the first-ever ninth-inning home run by a Met to beat the Braves in Atlanta/Milwaukee) was the start of something big.
For now, it's the first jump-out-of-the-chair moment the Mets have had in a few weeks, and a good starting point with which to continue our two-part mini-series.
Tuesday, we looked at the top 10 Mets-killers in Braves history (Chipper Jones/Hank Aaron at the very top). Today, we turn the tables and look at Mets who have hit the Braves in a Chipper-esque fashion.
1st- Mike Piazza -- When I think of Piazza's time as a Met against the Braves, I think of three swings.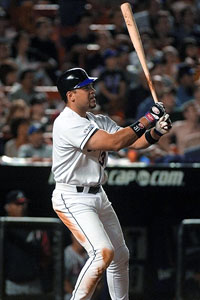 Matt Campbell/AFP/Getty Images
Mike Piazza hit more home runs as a Met against the Braves than anyone. This one won the first game back in New York after the September 11th tragedy.
The first was a rocket to right field against John Smoltz to tie Game 6 of the 1999 NLCS (we'll skip the ending and just remember this part).
The second was a line drive bullet down the left field line, capping a comeback from an 8-1 eighth-inning deficit on June 30, 2000.
The third was the home run off Steve Karsay, to win the first game back after the September 11 tragedy, a monstrous shot that rose and rose until it cleared well over the centerfield fence.
Those three swings defined Piazza's Mets tenure against the Braves better than any numbers can. To borrow a few icons from other sports, Piazza rose to the occasion like Joe Namath, Walt Frazier, and Mark Messier when it came to big-game, big-time performance.
2nd- Tommie Agee -- The most recent Mets Hall of Fame inductee prior to the quartet honored Sunday would probably make the "Braves-Killers" Hall of Fame as well.
In 1968, Agee didn't hit well vs anyone except the Braves, posting a .393 batting average against them in his first year as a Met. He'd hit .364 with an 1.156 OPS in 1969, follow that up with a huge postseason (.357 with two homers), than crush the Braves for a .347 batting average/1.060 OPS in 1970.
Agee's success came from knowing how to hit the knuckleball. He had one stretch in which he went 12-for-20 against Braves ace knuckleballer Phil Niekro.
3rd- Carlos Beltran -- Beltran bombed home run after home run to beat the Braves in the 2004 NLDS and that carried over into the next season, when he beat John Smoltz's 15-strikeout effort in a classic pitching duel with Pedro Martinez, with a home run that gave then-manager Willie Randolph his first win.
Most HR vs Braves
By Mets
In all, Beltran has a .310 batting average and 15 home runs for his Mets career against the Braves. His nine homers and 19 RBI in 12 games in 2006 are the most by a Met against the Braves in a single season.
4th- Len Dykstra -- Dykstra would foreshadow his status for getting big hits against the Braves during his Mets career. His .338 batting average is the best by a Met against the Braves, for those with at least 150 plate appearances against them. He hit .475 against them in a 40 at-bat stretch in 1986.
Even after leaving the Mets, Dykstra's status against the Braves grew. It's one thing Phillies fans and Mets fans can agree upon, with the knowledge that Dykstra won a playoff game for the 1993 Phillies, beating the Braves with a late home run.
T-5th- Keith Hernandez/Gary Carter/Darryl Strawberry -- We'll let the heart of the order share a spot, just as they share the mark for most RBI in a game by a Met against the Braves, with seven.
Hernandez gets top billing since he also hit for the cycle in that wacky 19-inning game on July 4, 1985, and his .423 on-base percentage for the Mets against the Braves is a team-best.
Strawberry hit 25 home runs against the Braves, second-most only to Piazza. Carter hit a solid .284 with eight home runs in 44 games behind the plate.
8th- Carlos Delgado -- Delgado makes the list as an RBI force with 39 in 51 games as a Met against the Braves.
His most memorable moment against Atlanta was a bit on the odd side -- a 5-for-5 effort on August 21, 2008, with the fifth hit being a walk-off after Omar Infante misplayed his fly ball in left (It was payback for Infante, who had teased some fans in the stands after making a nice catch earlier).
9th- Robin Ventura -- No, we didn't forget about Ventura and the walk-off grand slam single in the 15th inning of the epic Game 5 of the 1999 NLCS (honorable mention to Shawon Dunston, whose marathon-at-bat base hit leading off that inning is this blogger's favorite Met moment), or his two-homer day on Opening Day, 2001 that sparked an extra-inning Mets win.
Problem is, he did little else, hitting just .204 against the Braves as a Met in regular season play (and 3-for-25 in that NLCS). But who needs any more than the two moments listed above?
Highest Career BA vs Braves
By Mets (minimum 150 PA)
10- Steve Henderson -- This Mets fan-favorite of the late 70s/early 80s set the tone for his success against the Braves by beating them with a walk-off home run on June 21, 1977, six days after being traded to the Mets as part of the deal for Tom Seaver.
Henderson is just a hair before my time as a Mets fan, but I think I'd have liked him based on his penchant for big hits (my boss at ESPN, and my fellow bloggers have a few good memories of those).
He'd knock in 12 runs in nine games against the Braves that season. As a Met, he hit .321 with six home runs and five game-winning RBI for teams that didn't win too often.
Honorable mentions: Tim Bogar, Rico Brogna, Donn Clendenon, Shawn Green, Lee Mazzilli, Art Shamsky, Rusty Staub, David Wright.
Mark Simon is a researcher for Baseball Tonight. Follow him on Twitter at @msimonespn