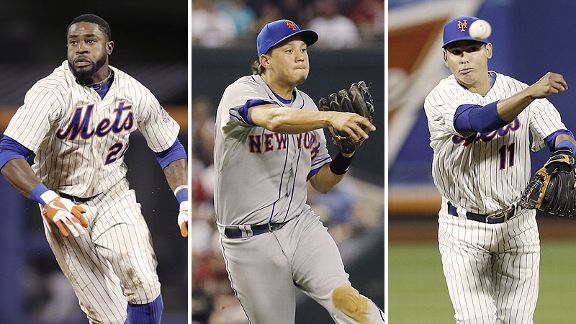 Associated Press
Sandy Alderson says Eric Young Jr., Wilmer Flores and even potentially Ruben Tejada would get looks at second base if Daniel Murphy is dealt.LAKE BUENA VISTA, Fla. -- Sandy Alderson acknowledged Eric Young Jr. would get consideration to play second base if Daniel Murphy is traded. But the GM added that he would like to go into spring training with other candidates as well, assuming that scenario takes place and Murphy is elsewhere.
Alderson mentioned Wilmer Flores as an alternative to Young. The GM also suggested Ruben Tejada could potentially get a part-time role there if the Mets do bring in a candidate who would displace Tejada from being the regular shortstop.
"I think we'd be comfortable if we had a number of candidates we could sort through during spring training," Alderson said.