NEW YORK -- New Seattle Mariners hitting coach Howard Johnson watched Zack Wheeler and Rafael Montero from the opposing dugout while coaching in Triple-A last season. But the Mets prospect who impressed him most at Triple-A Las Vegas last season?
Jacob deGrom, a 6-foot-4 right-hander and ninth-round pick in 2010 out of Stetson University, who went 4-2 with a 4.52 ERA in 14 starts for the 51s. DeGrom had started the season at Class A St. Lucie, then made 10 starts with Double-A Binghamton before the rapid ascent to Las Vegas.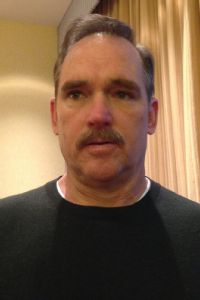 Adam Rubin
Howard Johnson
Although deGrom did not receive a September call-up, he was added to the 40-man roster this offseason and officially will be part of the fifth-starter competition along with John Lannan, Jenrry Mejia and Montero.
DeGrom, who was a shortstop early in his college career before being converted to pitcher, possesses a fastball that sits at 91-94 mph. The sinker is complemented by a slider and a changeup. (Read a full feature on him from July here.)
"I saw deGrom. I like him a lot," HoJo said. "As a matter of fact, at David [Wright]'s wedding, I mentioned deGrom to the front office. He pitched one game against us, and he pitched very well. And the things I saw, I liked. He was the guy that I remember, for sure. And we saw them all -- Wheeler, and I've seen [Jack] Leathersich and some of the other guys. But he was pretty good."
After being let go by the Mets as a major league hitting coach and deciding not to accept a minor-league role with the club, HoJo sat out two years. He then accepted the Triple-A Tacoma hitting coach role last season with the Mariners and now has been elevated to their big-league staff.
There is a definite Mets accent to the coaching staff in Seattle. HoJo is joined by John Stearns as third-base coach, Rick Waits as pitching coach, Chris Woodward as infield coach and Jason Phillips as bullpen catcher.
An added bonus: HoJo now gets to coach Robinson Cano.
"I'm going to fix him," HoJo quipped.
More seriously, Johnson added: "To me, he's got the perfect swing. Before he was with me and the Mariners, we would watch him and use him as an example of things I like when I'm talking to hitters. It's going to be an easy fit. And he's going to help our young guys out a lot. You get to see it every day."