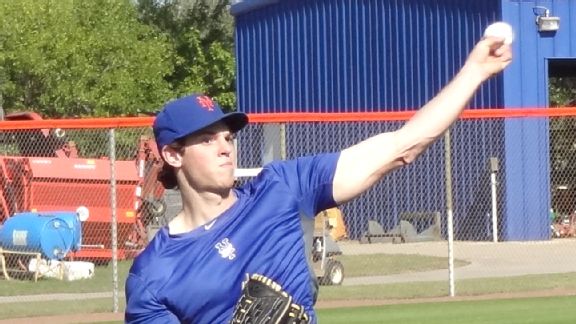 Adam Rubin
Steven Matz tosses a baseball during Monday's workout in Port St. Lucie.PORT ST. LUCIE, Fla. -- The Mets avoided taking a calculated risk last Nov. 20. Instead, they placed Steven Matz on the 40-man roster.
The decision shielded the left-handed pitching prospect from Rule 5 draft eligibility. It could not have been a slam dunk, though.
After all, Matz only pitched at low-A Savannah last season.
So would another organization really have selected him in the Rule 5 draft and kept him at the major-league level all season in order to get the Long Island native's rights?
"It was pretty exciting," Matz said about receiving the 40-man roster call from farm director Jon Miller earlier this winter. "I wasn't really expecting anything."
The 40-man roster addition means Matz automatically is in big-league camp.
He is a product of Ward Melville High School in Stony Brook and was selected with the Mets' first pick (second round, 72nd overall) in the 2009 draft.
Matz escaped frigid New York and arrived in Port St. Lucie on Jan. 27. He had been training all winter at Professional Athletic Performance Center in Garden City, alongside Jose Reyes as well as Mets farmhand Cam Maron (from Hicksville), ex-Met Pedro Beato, Adam Ottavino (Rockies), Keith Couch (Red Sox) and Willie Carmona (Phillies).
Matz only pitched in low-A this season because a slow recovery from Tommy John surgery cost him roughly two full years of his pro career.
He did not make his debut in an official minor-league game until June 20, 2012 -- literally three years after getting drafted.
"It doesn't really feel like that now," Matz said about the stalled early career. "You're just kind of entrenched in the stuff you do every day. It just feels like now I'm back, and I've got a good season behind me now. Now I'm looking forward and I just have to keep on trying to stay healthy."
Matz, still only 22 years old, went 5-6 with a 2.62 ERA for Savannah last season. He had a 1.166 WHIP and 121 strikeouts in 106 1/3 innings under the tutelage of Gnats pitching coach Frank Viola -- also a Long Island native, from East Meadow.
"I had some ups and downs during the season," Matz said. "Frank helped me out a lot -- and getting a routine down. I think it was just throwing every day out there and trusting my stuff and letting it go."
Does Matz feel behind the other pitching prospects in camp? After all, while many of the young pitchers are equivalent age-wise to Matz, all of them have pitched at least at the Double-A level.
"You always feel like that, because I only played in low-A last year," Matz said. "But baseball is baseball, no matter what level you're at. You just have to go out and compete and see what happens, I guess."