PORT ST. LUCIE, Fla. -- John Lannan will not go into the fifth-starter competition hamstrung. The left-hander, who underwent season-ending surgery last August, was cleared to work out unrestricted at the beginning of January and arrived in camp Wednesday already throwing off a mound.
Lannan, who signed a minor-league contract with the Mets, had required surgery to repair a "decent-sized tear" in the tendon that connects the quadriceps to the knee in his left leg. The injury was the cumulative effect of years of pitching.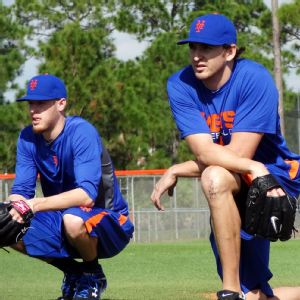 Adam Rubin
John Lannan and Zack Wheeler work out during Wednesday's voluntary session in Port St. Lucie.
"I've been working without limits for the last month and a half," Lannan said. "It feels really good right now. I'm exactly where I need to be. I'm off a mound. I'm ready to compete."
Lannan had needed to keep the knee straight for three weeks immediately after the August procedure.
Now, he is ready to compete with Daisuke Matsuzaka, Jenrry Mejia, Rafael Montero and Jacob deGrom for the final slot in the rotation.
Lannan and Dice-K, who also is on a minor-league contract, have June "outs" if they are not promoted to the majors by then.
"It's always good to kind of have some young arms and older guys compete for a spot," Lannan said.
Lannan, 29, went 3-6 with a 5.33 ERA in 14 starts for the Philadelphia Phillies last season while dealing with the knee discomfort that ultimately resulted in surgery. He spent the bulk of his career with the Washington Nationals.
He originally is from Long Beach on Long Island, and is a product of Chaminade High School and Siena. Although he currently lives in Florida, Lannan visits Long Island for a couple of weeks every Christmastime. His parents still live in Long Beach and his in-laws are in Massapequa.
He grew up a Yankees fan.
"But I did go to Shea Stadium a lot," Lannan added. "I loved it. I liked pitching there. I liked watching games there. All my baseball memories make me the ballplayer I am today. Shea had a lot to do with that."