PORT ST. LUCIE, Fla. -- Sandy Alderson labeled signing Stephen Drew, or any free agent with a notable cost attached, "unlikely" before the season begins.
Speaking on his first day at the Mets' Florida complex, Alderson stated on the topic: "I said it was unlikely that we would sign another major free agent. I think that's still the case."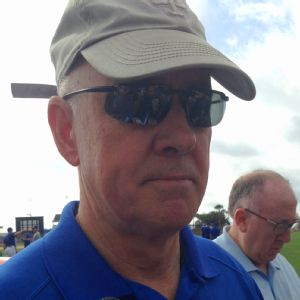 Adam Rubin
Sandy Alderson suggested the payroll probably will not go north of the current $87 million or $88 million before Opening Day.
Asked specifically if that means no $10 million-plus player would be signed, the GM said: "Well, that's what I've said before. So I guess I should reiterate that."
Despite a tabloid report otherwise, Alderson insisted there were no bank-imposed constraints on the payroll, which he estimated is currently $87 million or $88 million.
"If you're referring to banks or owners or other interested parties, I think the answer clearly is no," Alderson said. "There are no constraints on the payroll."
Alderson suggested the current payroll level is where he expected at the beginning of the offseason it would reside.
"I had a pretty good idea of where we might end up," Alderson said. "Had we not signed the free agents we did, we would have been a lot lower. Our goal is to try to make the team as good as it can be for this season. I think we've gotten pretty close to achieving what we hoped to."
Still, Alderson said he expects future seasons to result in higher payrolls.
"Every team has payroll constraints, including those teams who have signed big free agents and are now saying, 'I have no money,'" Alderson said. "Yes, I feel very confident that it will climb back up. At the same time, we need to have some success on the field, which drives some attendance, which drives some additional revenue -- all of those things.
"I understand it's incumbent on us to have some success on the field in order to do that."
On 2014, he added: "I don't keep a running tab on the payroll, but we're somewhere in excess of $85 million. I would say we would probably be in that range when everything is said and done. Now, we'd always like to have more players, but that doesn't always make you a better team. So, from that standpoint, we're within in a small margin of where we're going to be, I think. And we're ready to go."
On other topics:
Alderson insisted there are three viable results of Ike Davis and Lucas Duda being in camp: Both make the Opening Day roster. Neither make the Opening Day roster. Or one ends up at Triple-A Las Vegas. He suggested it is not "likely" that one ends up in the minors.
"There are a variety of different scenarios," Alderson said. "We haven't even opened camp yet, so at this point all of the options are possibilities."
On whether the additions of Jose Valverde and Kyle Farnsworth on minor-league contracts stabilize the bullpen, Alderson said: "For the time being. For the next two or three weeks. We'll see. You can ask that question later."
Alderson suggested a veteran such as Daisuke Matsuzaka or John Lannan does not necessarily have an inherent advantage for the fifth-starter's role.
"That's one strategy, but you could go the other way," Alderson said. "What I'm excited about is the fact that we've got four or five competing for that spot -- one of whom pitched to a 2-plus ERA last year [Jenrry Mejia], the other one, Dice-K, pitched great for us the last four outings. So it's a competition a lot of clubs have, but I think we've got tremendous quality and depth at that spot. It's going to be interesting to see what happens."
On the heavy turnout for voluntary workouts in Port St. Lucie, Alderson said: "This is quite impressive. I think we had over 60 guys here yesterday. It's supposed to be voluntary, but it needs to be a little organized with the number of people we have here. The staff has been here as well, and it's great."
Alderson said Wilmer Flores and Juan Lagares remain at the fitness and nutrition camp in Michigan and are due to depart Friday.