Mets sign RHP Buddy Carlyle
February, 18, 2014
Feb 18
9:45
AM ET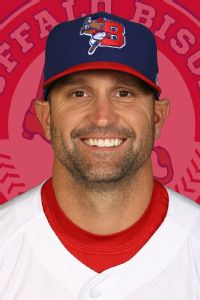 Courtesy of Buffalo BisonsBuddy Carlyle
PORT ST. LUCIE, Fla. -- The Mets have signed right-handed reliever
Buddy Carlyle
to a minor-league contract that does not include an invite to big-league camp.
Carlyle, 36, last appeared in the majors in 2011 with the Yankees.
He made 36 appearances (two starts) last season for Triple-A Buffalo, compiling a 4-2 record and 3.86 ERA in 56 innings.
The Mets also announced the signing of left-handed reliever
Dana Eveland
, who also will proceed directly to minor-league camp.
ABOUT THIS BLOG
Adam Rubin

Adam Rubin has covered the Mets since 2003. He's a graduate of Mepham High School on Long Island and the Wharton School of the University of Pennsylvania. He joined ESPNNewYork after spending 10 years at the New York Daily News.
Mark Simon

Mark Simon is ESPN Stats & Information's Baseball Research Specialist. One of several Mets historians working at ESPN, he joined the Worldwide Leader in 2002 after 6 1/2 years as a sports writer at the Trenton Times.
Email Mark » Follow Mark on Twitter »
AdamRubinESPN Adam Rubin
Brian McRae turns 47 today. ... Mike Maddux is 53. ... Minor-league pitchers Hunter Carnevale (traded to Jays) and Ryan Fraser turn 26.
5 minutes ago

AdamRubinESPN Adam Rubin
Anthony Seratelli grand slam lifts Las Vegas: http://t.co/BGePleQUC1 #mets
about 5 hours ago

AdamRubinESPN Adam Rubin
Juan Lagares made web gems: http://t.co/10joNlOa3Q
about 5 hours ago

AdamRubinESPN Adam Rubin
Minors 8.26.14: Pina double lifts St. Lucie http://t.co/mNjBMSio8M #NYM #Mets
about 7 hours ago

AdamRubinESPN Adam Rubin
Made it just under the wire: It's Mets fan @dylanobrien's birthday today.
about 8 hours ago

AdamRubinESPN Adam Rubin
Mets 8th-round pick Dash Winningham now has 5 HRs. It's the most by a Mets farmhand in the Gulf Coast League since 2008.
about 8 hours ago

AdamRubinESPN Adam Rubin
Juan flashes power as Mets top Braves http://t.co/YiC4PAr0bK #NYM #Mets
about 8 hours ago

AdamRubinESPN Adam Rubin
Terry Collins said Vic Black and Josh Edgin were unavailable Tuesday. Edgin insisted nothing serious -- just elbow needs day or two rest.
about 9 hours ago

AdamRubinESPN Adam Rubin
Rapid Reaction: Mets 3, Braves 2 http://t.co/U85SaHgLij #NYM #Mets
about 9 hours ago

AdamRubinESPN Adam Rubin
Rapid Reaction: #Mets 3, #Braves 2: http://t.co/CcTJVzV3xg
about 9 hours ago

AdamRubinESPN Adam Rubin
Double play. 2 outs.
about 9 hours ago

AdamRubinESPN Adam Rubin
Leadoff single for Justin Upton.
about 9 hours ago

AdamRubinESPN Adam Rubin
Jenrry Mejia is coming off a scoreless appearance, but has a 6.52 ERA in August. Faces Upton, Johnson and Gattis.
about 9 hours ago

AdamRubinESPN Adam Rubin
Headed to the 9th at 9:30 p.m. Jenrry Mejia on to close it. #Mets 3, #Braves 2
about 9 hours ago

AdamRubinESPN Adam Rubin
Freddie Freeman flies out to left field as Jeurys Familia strands tying run at second base. #Mets 3, #Braves 2, mid-8. We're flying.
about 9 hours ago

AdamRubinESPN Adam Rubin
Jeurys Familia now batting .667 this season (2-for-3). Smokes a groundout to third base to end 7th. #Mets 3, #Braves 2, end 7
about 10 hours ago

AdamRubinESPN Adam Rubin
Jersey guy Tommy La Stella with a 2-out RBI single. #Mets 3, #Braves 2, top 7. And Dillon Gee is done.
about 10 hours ago

AdamRubinESPN Adam Rubin
Dillon Gee cruises through the 6th. #Mets 3, #Braves 1, mid-6
about 10 hours ago

AdamRubinESPN Adam Rubin
After a 227 AB homerless drought was snapped Saturday, Lagares now has homered in 2 of last 3 games. Last one was May 17. (corrected)
about 10 hours ago

AdamRubinESPN Adam Rubin
After a 227 AB homerless drought was snapped Sunday, Lagares now has homered in consecutive games. Last one was May 17.
about 10 hours ago
UPCOMING GAMES
| | W-L | HM | AW | STK | L10 |
| --- | --- | --- | --- | --- | --- |
| ATL | 68-64 | 37-28 | 31-36 | L3 | |
| NYM | 62-70 | 31-32 | 31-38 | W2 | |
| | W-L | HM | AW | STK | L10 |
| --- | --- | --- | --- | --- | --- |
| ATL | 68-64 | 37-28 | 31-36 | L3 | |
| NYM | 62-70 | 31-32 | 31-38 | W2 | |
| | W-L | HM | AW | STK | L10 |
| --- | --- | --- | --- | --- | --- |
| PHI | 60-72 | 32-38 | 28-34 | W3 | |
| NYM | 62-70 | 31-32 | 31-38 | W2 | |
BLOG ARCHIVE:
CATEGORIES:
AUGUST 2014
SEPTEMBER 2014
OCTOBER 2014
Sun
Mon
Tue
Wed
Thu
Fri
Sat

1

@MIA
1:10 PM ET

2

@MIA
7:10 PM ET

3

@MIA
7:10 PM ET

4

5

@CIN
7:10 PM ET

6

@CIN
4:10 PM ET

7

@CIN
1:10 PM ET

8

COL
7:10 PM ET

9

COL
7:10 PM ET

10

COL
7:10 PM ET

11

WSH
7:10 PM ET

12

WSH
7:10 PM ET

13

WSH
7:10 PM ET

14

WSH
1:10 PM ET

15

MIA
7:10 PM ET

16

MIA
7:10 PM ET

17

MIA
7:10 PM ET

18

19

@ATL
7:35 PM ET

20

@ATL
7:10 PM ET

21

@ATL
1:35 PM ET

22

23

@WSH
7:05 PM ET

24

@WSH
7:05 PM ET

25

@WSH
7:05 PM ET

26

HOU
7:10 PM ET

27

HOU
7:10 PM ET

28

HOU
1:10 PM ET

29

30

| Sun | Mon | Tue | Wed | Thu | Fri | Sat |
| --- | --- | --- | --- | --- | --- | --- |
| | | | 1 | 2 | 3 | 4 |
| 5 | 6 | 7 | 8 | 9 | 10 | 11 |
| 12 | 13 | 14 | 15 | 16 | 17 | 18 |
| 19 | 20 | 21 | 22 | 23 | 24 | 25 |
| 26 | 27 | 28 | 29 | 30 | 31 | |
2014 NATIONAL LEAGUE EAST STANDINGS